Resonance Sound has announced the Virus TI Sound Sale, offering 30% off on soundsets for the Virus TI synthesizer for a limited time.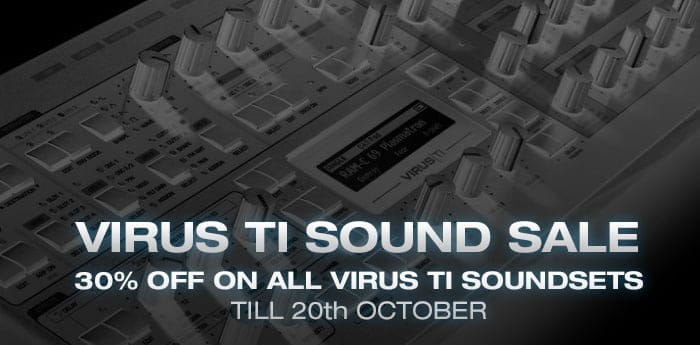 Virus TI soundset sale
CFA-Sound – V-Bass
Serious weapons for mass destruction: aggressive dirty electro sounds, percussive and massive bassline tools: V-Bass – 80 Virus TI Patches by CFA-Sound.
CFA-Sound – Thrillogy-1
Push your Virus TI to the maximum with the CFA-Sound Thrillogy-1 soundset – 128 patches of heavy inspiring, absolutely suitable and top-notch quality.
SOR – Revolution Virus C/TI Vol.1
128 professional patches to rock the clubs by Sounds of Revoution for your Virus C/TI – fat powerful leads, dark effects, dreamy trance pads & more..
SOR – Revolution Virus C/TI Vol.2
SOR Revolution Virus C/TI Vol.2, – for the 2nd chapter we delved deep into the heart of the virus to bring you 128 patches of unique sound design.
SOR – Revolution Virus
Revolution Virus by Sounds of Revolutio – a fresh Virus B soundset with 128 patches for dance, trance, techno & house – works on ALL VIRUS MODELS.
The sale ends October 20th, 2015.
More information: Resonance Sound