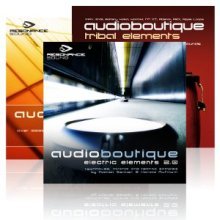 Resonance Sound has announced the release of Electric Elements 1 & 2 and Tribal Elements 1, three sample libraries by Audio Boutique.
We are proud to present a new label on Resonance-Sound: 'AUDIO BOUTIQUE'

It's the label of the german producer legend Ramon Zenker and his partner Harald "Harada" Aufmuth. The sample packs Electric Elements Vol.1 & Vol.2 and Tribal Elements Vol.1 are now available at Resonance Sound.
Audio Boutique sample libraries
Electric Elements Vol.1 – not just another Sampling collection! Proudly presented by Resonance Sound, this Sample Library is fully packed with sophisticated sample material, far away from standards and dedicated to sounds you often miss for the production of up-to-date sounding Tech House, Minimal, Techno and Electro
House. Whether you´re looking for long noise effects, uplift sweeps, stereo drums, small fragment sounds, Tech House chords, specials such as 8-bit fairlight and amiga sounds, vintage synth sounds and loops, tricky Hihat loops, playable bass sounds or a grand library containing fresh produced bass and drum loops plus up-to-date bass drums, all this and even more can be found on Audio Boutique.
Electric Elements Vol.2 – Sophisticated sounds full of creativity and freshness meet up with unbelievable effects and loops beyond imagination. This pack breaks up with boring standard repertoires and brings your production to a whole new level? No wonder: Two rock-steady heroes have reached deep into their sound boxes for this collection. Ramon Zenker, multi-award winning musical titan and one of the most experienced german producers already hit the bull's eye with countless hits nationally and internationally and across all genres during the last two decades. His partner Harald "Harada" Aufmuth with his current productions on BluFin, Trapez, Micro.fon, Kiddaz.fm and Leftroom is one of the star newcomer in the Minimal and Deep Techno scene.
Tribal Elements Vol.1 – After the successful debut of the "Audio Boutique" sample series, also distributed by Resonance Sound, producer dinosaur Ramon Zenker and Harald Aufmuth attend to a subject that will get producers of modern House music highly excited: "Tribal Elements". Regardless of which club you enter or which shop you visit to search for the hottest new tunes, both the underground and the masses agree upon that Tribal House grooves are in demand like never before and cause euphoria on dancefloors worldwide.
The Audio Boutique sample libraries are now available to purchase from Resonance Sound.
Resonance Sound has also launched a "Special Holiday Offer", a 20% discount on all its products until January 1, 2012.
More information: Resonance Sound