Reveal Sound has extended its sale on the Spire synthesizer instrument until September 30th, 2016.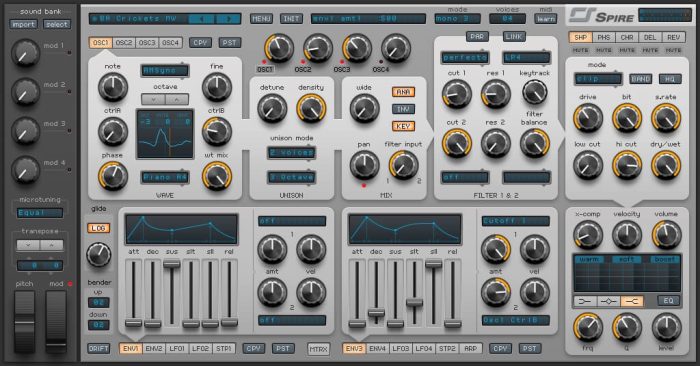 Spire is a software polyphonic synthesizer that combines powerful sound engine modulation with flexible architecture and a graphical interface that provides unparalleled usability.
Spire features
Versatile oscillators: 4x multimode polymorphing oscillators Classic, Noise, FM, AMSync, SawPWM.
Unique unison engine: 9x unison voices on each oscillator Spread unison voices by chords and octavesCapable of imitate different types of unisons like supersaw, hypersaw.
Superb sounding filters: 2x multimode filters with analogue and digital types of filtering Perfecto, Infecto, Acido, Scorpio, Combo
High quality built in fx processor: Shaper/Decimator, Phaser/Vowel, Chorus/Flanger, Delay, Reverb.
Incredibly flexible modulation architecture: 4x Macroses, 4x Envelopes, 4x LFOs with morphing shapes, 15x Matrix slots each of equipped with 2x sources and 4x targets.
2x steppers, arpeggiator: Surprisingly user friendly and fun to use!
make your sounds fatter: with X­-Comp (Multiband Compressor) and 3-band EQ.
Stunning presets: Over 700 factory presets including complex arpeggios and bass sequences, a versatile assortment of leads, exhilarating pads, plucks, drums and FXs.
Looks great on retina devices: UI Scaling 100%, 150%, 200% for greater comfort.
Spire for Windows and Mac (VST/AU/AAX) is available at 30% off until September 30th, 2016.
More information: Reveal Sound