Applied Acoustics Systems' latest effort in physical modeled software instruments is Chromaphone, a "creative percussion synthesizer".
It is based on the combination of acoustic resonators to create drums, percussion, string and hybrid synth-like instruments. Membranes, bars, marimbas, plates, strings, and tubes form pairs that are excited by a mallet and a flexible noise source.

Access to different parameters such as the material of the resonators, their tuning and hit position allow for the creation of a vast range of realistic and creative instruments and sonic colors. Whether real, innovative, or with an ethnic touch, Chromaphone will fill your music with rich and organic tones.
Sound is generated with mallet and noise modules which excite the two resonators. The mallet has controls for volume, stiffness, noise and noise color; the noise module uses a white noise generator + multi-mode filter, with dedicated envelope. Both sources can be mixed.
Various resonator types are available: string, open and closed tube, plate, membrane, bar, and a marimba bar. A manual mode lets you adjust the frequency of up to four different partials.
The output of both resonators is mixed proportionally with the balance slider, with the "parallel mode" basically simply mixing the two outputs, and a "coupled mode" which features "bidirectional transfer of energy between the objects". In simple terms this means that both resonators influence each other, which according to AAS results in tones and timbres that reproduce the richness of sounds from real acoustic instruments.
Chromaphone includes a dedicated vibrato effect (pitch modulating LFO), a LFO unit for modulating the Noise module, and a multi-fx section in which you can pick two effects (in series) from a selection of delays, chorus, flanger, phaser, (auto) wah wah, notch filter, 3-band equalizer, distortion, tremolo and reverbs.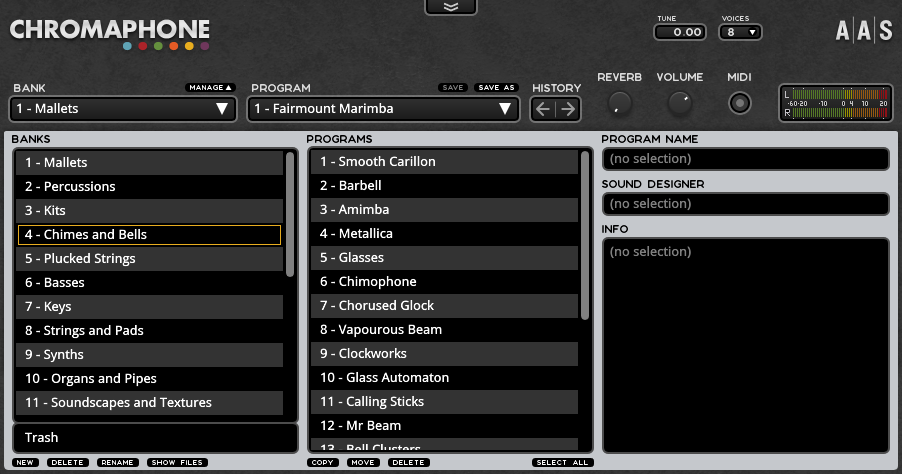 The presets library includes over 300 sounds categorized in mallets, percussions, kits, chimes and bells, plucked strings, basses, keys, strings and pads, synths, organs and pipes, soundscapes and textures, and effects sections.
Check the audio demos below to get an impression of what Chromaphone is capable of.
So what do I think?
Product
: Chromaphone by Applied Acoustics Systems
Format
: VST/AU/RTAS/Standalone
Price
: $199 USD
Like
: Incredibly versatile, unique sounds, superb quality
Don't like
: —
Verdict
: 9/10
If nothing else, Chromaphone is incredibly versatile. So much even, I feel like its tagline "creative percussion synthesizer" is kind of selling it short.
While it does an amazing job with percussion sounds – both the traditional and more creative variety – the types of sound you can get from this instrument are way beyond "creative percussion" to me. The pads, soundscapes, textures, effects etc. in the factory bank show that Chromaphone can do a lot more than percussion, and for even more adventurous sounds I can also highly recommend the expansion libraries by sound designers Martin Walker and Simon Stockhausen.
With its physical modeling, Chromaphone produces wonderfully dynamic, expressive sounds. Experimenting pays off, as just the turn of a knob or two can yield completely different, unique sounds.
Needless to say, Chromaphone is a fantastic synthesizer for cinematic, soundtrack type works. It will likely suit many electronic music producers as well, especially in the area of ambient, minimal, and idm genres.
I am truly excited about this synthesizer and I can't wait to use it in some of my projects. Go check it out!
More information: Applied Acoustics Systems / Chromaphone