Kontakt Hub has recently released Retcon, a Kontakt instrument that builds on three previously released BOCS (Boards Of Canada Synthesis) titles by AudioWarp.
More than just another sound library, Retcon is a uniquely designed virtual instrument that features a colour coded HEX layout giving you easy access to a wealth of controls. Designed specifically with ambient and synth music in mind. Retcon contains a host of powerful features built specifically for creating atmospheric, lofi, heavily modulated pads, leads, keys and plucks.
Retcon's interface has 6 pages, with various color coded hexagons that let you control the parameters by clicking or dragging up and down on the hexagon.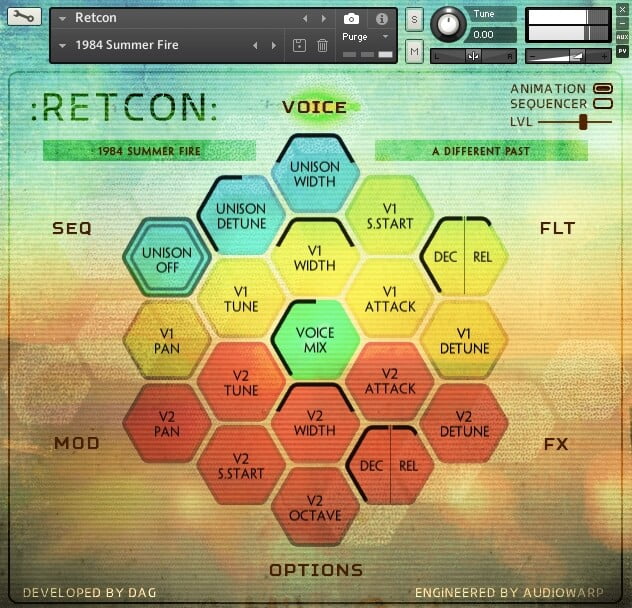 Clockwise we have:
Voice: Unison, panning, tuning, envelopes and voice mix blending.
Filter: Two multi-mode filters (high-pass, band-pass and low-pass) in series or parallel, with LFO and envelope controls.
Effects: Bit crusher, saturator, tape drive saturation, equalizer, transient shaper, flanger, delay, and reverb.
Options: Set the low & high keys and volume via velocity sensitivity for each voice, slide for legato, number of voices (1-64), and some randomize options for tuning, volume, start position, and panning.
Modulation: Tremolo, auto-pan, pitch envelope & LFO, sample rate, and noise modulation.
Sequencer: 12 patterns of up to 16 steps, with volume, pitch and chord sequencing.
The instrument allows you to blend two voices, with 84 patches available as the source for each voice.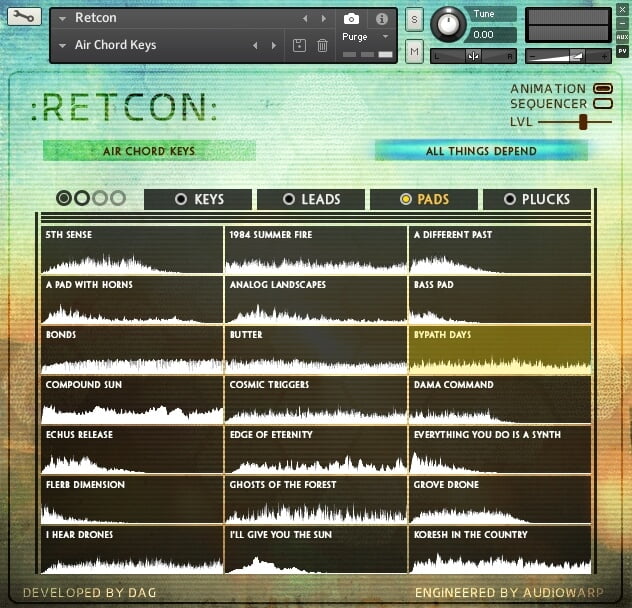 You can select these from categories (keys, leads, pads, and plucks) in a nifty patch browser that has a waveform preview. These patches are included in the 130 snapshots of Retcon, in addition to a collection of designed sounds.
Check the walkthrough video below to see Retcon's features in more detail.
So what do I think?
Well, to be honest Retcon had me from the init patch. The "Bonds" patch – with its lofi, drifting pad sound – is exactly what I had hoped to find. This instrument library is all about Boards Of Canada type sounds, and I happen to love that kind of thing.
The included patches offer a good variety of sounds within the BOC spectrum. They will work well for anything that needs some warm, lush, analogue type ambient sounds. I have to say some of the patches come in a little hot though.
The interface is a piece of art. It totally sets the right mood, and I found it is pretty easy to work with. I can imagine it's not for everyone though, but a good read in the manual should get you around the interface just fine. The library also has NKS support so Komplete Kontrol and Maschine users will enjoy this integration.
Retcon is available for £40 GBP (incl. VAT), so check it out at Kontakt Hub and distributor Plugin Boutique.