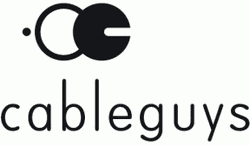 Although Curve 1.0 was only released last December it is not exactly a new plug-in.
This software synthesizer developed by Jakob Rang and Steffen Rose of Berlin-based Cableguys has been around in various stages of public beta since as early as August 2006. Interestingly enough the final release looks more or less the same as the initial design, albeit much more refined.
Let's take a look at the general specifications of Curve.
Curve features
3 oscillators (aliasing-free) with custom waveform + noise generator.
10 editable waveforms can be assigned as sources for the oscillators and LFOs.
3 AHDSR envelope generators.
2 multi-mode filters in serial.
4 host-syncable LFOs.
Mod matrix, including pitch and FM modulations.
Info box displays hints for controls/parameters.
Presets management with presets sharing, tagging and rating options.
Curve doesn't really include that many groundbreaking features, but one thing that definitely sets it apart from similar synths is the waveform editor, which takes up a large part of Curve's interface.
Pick one of the available classic shapes or start from scratch by mouse clicking in some break points (soft & hard) and modifying the curves to your liking. The existing break points and curves in a waveform can also be randomized with the push of a button.
Several buttons are available to speed up the job. Things like inverting and shifting the waveform in various directions, and in- or decreasing the amplitude. The grid can be scaled/zoomed, and there is a note grid option which when active snaps the waveform break points to the grid. The idea here is to use the waveform as an LFO source and modulate pitch with it to create melodies.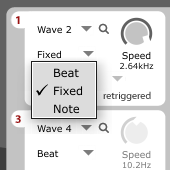 The LFO section includes a total of four LFOs. Two of them are retriggered by notes; the other two are global (they keep running). When synced to host tempo the LFOs can run at various speeds from 1/128 to 32 bars. A fixed rate can be set from 0.020 Hz to 5.24 kHz, and the retriggered ones can also play at the frequency of notes played.
Much like the visual design of the interface, the various sections of Curve are quite minimal. The oscillators only have a few controls (pitch, detune, pan, and volume). Same thing for the filters, which run in serial mode. But don't mistake the lack of controls for lack of quality. Under the hood these filters are identical to the ones in FilterShaper. Curve has three envelopes – one of which for the main volume, the other two for use in the modulation matrix.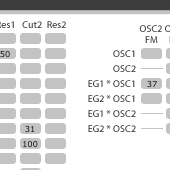 Cableguys took a traditional/old-school approach with the modulation matrix, hard wiring the whole shebang and displaying the full matrix of options in the interface. While I have grown used to drop down menus for modulation source/target parameters, I don't mind having it all laid out.
Besides LFOs and envelopes you can modulate with velocity, mod wheel, keytrack and aftertouch. Modulation targets include pitch, FM, volume, and filter cutoff & resonance. To the right is a section devoted to frequency modulation, where you can modulate the oscillators.
Some general settings are also available for polyphony (max 32 notes), preset volume, and pitchbend range. An audio quality selector lets you pick a number of band limited (non-aliasing) and aliasing modes.
This synth is pretty straightforward to program, but if you need help most controls will display some quick hints/tips in the info box in when hovering over them. You can also learn from the collection of presets that comes with Curve.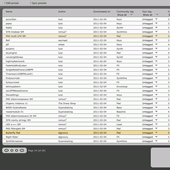 The preset management is actually something quite special. Search, tagging and rating are nice features, but Curve has more than that. Did you notice the columns for "downloaded on", and "community tag & rating"?
Curve's preset library is a shared online database, populated with presets from you and other Curve users. This ever-growing, community-driven sound library provides a constant source of inspirational sound, and gives you the opportunity to share, tag and rate sounds quickly and easily across the web.
I just clicked the "Sync presets" button after a fresh installation and received over 600 brand new sounds. How cool is that?
It is pretty clear to me that Cableguys takes pride in Curve's community driven nature. They basically allow you to help shape the future development of Curve via a forum on UserVoice, where users can submit (and vote for) feature requests, comments, bugs, etc.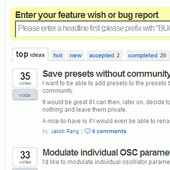 And right now I see there is an interesting development already. A lot of people are voting for "Save presets without community upload" to be implemented. So it seems not everyone is equally excited about sharing their presets with the community. While I understand you might want to keep sounds to yourself, I sure hope this option won't kill off the presets sharing completely. Fortunately I see a few familiar names in the browser list (AbstractCats, rsmus7, and MrWobble to name some) so I am reasonably confident that additional presets will be available in the future, but only time will tell.
One last thing I would like to point out is that with the exception of the two filters, Curve does not come with any effects, unlike many other synthesizers that include reverb, chorus, delay, etc… To be honest I am a sucker for big sounding presets, yet the way some developers drown every single sound in tons of fx seems a bit silly. Like they are trying to hide the true quality of the synth.
It could well be that Cableguys left the effects out simply because they did not develop any besides the filter, but regardless I find it quite refreshing to get a more pure synth sound and leave the effects up to me. Anyway, if you are going to put Curve side by side to other synths make sure to turn of the effects or you will be comparing apples and oranges.
I was thinking of posting a short video of Curve but I don't think I could make it look anywhere near as cool as the intro video by Cableguys, so here you go.
So what do I think?
Product
: Curve by Cableguys
Format
: instrument plug-in for Windows and Mac (VST/AU)
Price
: 119 EUR / $159 USD
Like
: flexible waveform editing, community driven, simple design
Don't like
: —
Verdict
: 8/10
Curve is a pretty basic, straightforward synthesizer. But not as basic as its interface might suggest.
Curve's main attraction lies in the flexible, comprehensive, yet easy to use waveform editor. From wobbly dubstep basslines to long evolving soundscapes, the extensive control over oscillator and LFO waveforms opens up a world of unique sounds.
I personally love the preset sharing and it is great to know that your voice is heard when it comes to feature requests. Since the release of version 1.0 Cableguys has actually already implemented some requests like undo/redo for waveform drawing and adding some modulation sources.
In short, Curve is a solid synthesizer with plenty of character. Whether you like to create your own truly unique sounds with hand drawn waveforms, or benefit from the community effort and play with other people's presets, Curve is definitely a synth you should not overlook.
A generous demo version (fully-functional, no time limit) of Curve is available to download from the Cableguys website so check it out.