Goldbaby has released a new sample pack last week: SP-1200 Vol 1.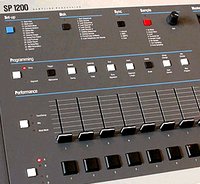 Goldbaby's product catalog is full of high quality drum samples recorded with vintage gear. This time the E-mu SP-1200 and SP-12 drum samplers take center stage.
Goldbaby writes:
Not everyone can get their hands on one of these machines. So I thought I better help out. I got the SP-1200 and the SP-12 and started sampling. I sampled an 808, 909, 606 and LM1… also some real drums… plus some vinyl hits… and just for good measure I have included the SP-12 presets and some groove templates…
I had a go with the Battery 3 version of SP-1200 Vol 1, which includes:
1088 x 24 Bit drum samples
12 x Kits
Drum patterns as midi files
Selection of Groove Templates in midi format
The Battery kits are constructed from samples in the following categories: Beatbox, Drum Machines (606, 808, 909 and LM-1), FX, Real Drums, Slowed Down, SP-12 presets and Vinyl.
Each of these categories has its own folder of samples. The Battery kits only use a small selection of the samples so there's a lot more to explore on your own.
The samples were recorded in these three ways (which you'll see in the naming convention of the .wav files):
F = Put through the internal analog filter of the SP1200.
R = Without the analog filter of the SP1200.
X = Without the analog filter of the SP1200. Then put through software filter with
envelope.
SP-1200 Vol 1 is currently available as a Wav Pack for just $19 USD, and for Battery 3 and Guru for $24 USD each. A ReFill version should be out soon as well.
So what do I think?
Not surprisingly, these samples are top notch. SP-1200's 12bit/22kHz sound is great for that old skool feel. The included kits work very well (loaded them into Kontakt 3) and there are tons of samples to create your own kits.
Now I've mentioned before that I don't really need any more drum samples, but Goldbaby always manages to bring something new and useful. I very much liked the LM-1 and "slowed down" samples, but the vinyl sounds — wonderfully gritty/lo-fi — are my favorites in this first (of many I hope) volume.
More information: Goldbaby Productions