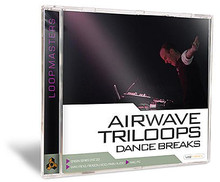 When I first checked the bio of Laurent Véronnez (aka Airwave), I wasn't sure if I was going to like Loopmasters Airwave – Triloops Dance Breaks.
For some reason the mention of the Bonzai label made me think of hardcore/gabba style music, which I'm not a big fan of.
The Loopmasters product page for Airwave Triloops reads:
Airwave has exclusively produced a superb collection of breaks and beats designed firmly for producers working in electronic music and sub genres, who want to capture the imagination of the most discerning of clubbers from the worlds finest clubs and dancefloors.
A quick run through the tracks on the included Audio CD confirms that Airwave Triloops Dance Breaks indeed offers a wide variety of loops. Check this demo mp3 to hear a selection of the samples.
The data disc features 650+ copyright free drumloop samples (333 Wav files, 334 Rex2 Loops). Although most samples have a bpm between 125 and 132, you'll also find downbeat loops around 60bpm and faster (and harder) stuff in the 140bpm area.
For some of the loops, a number of variations are included. The Acidised wav and Rex2 samples can easily be rearranged in your host if you want to create your own beats from the samples.
So what do I think?
Although the overall sound quality is great, I found some of the beats to be a bit bland. This may be because they are more or less of the tried and tested kind. If that's exactly what you're looking for, these solid beats will do the job.
The majority of loops are inspiring. Airwave processed many loops with effects, creating truly unique sounds.
The samples are great for anyone who needs beats and breaks for a wide range of electronic music styles. The faster loops work well when slowed down (and vice versa) so the library is a lot more versatile than you might expect.
Airwave Triloops provides a huge arsenal of quality samples, with plenty of original material, even for those who already have tons of dance breaks; a welcome addition to one's electronic drum loops library.
The Airwave – Triloops Dance Breaks library is available from Loopmasters for £34.95 GBP (which currently converts to a little under $70 USD).
More information: Loopmasters