KONTAKT 3 is the latest version of Native Instruments' flagship software sampler.
You can argue whether or not KONTAKT is actually a sampler since it doesn't have any recording capabilities, but it works in a similar manner regarding the manipulation of samples.
Let's take a look at the KONTAKT 3 top features mentioned on the product page:
Six Instrument Collections – over 33 GB of sounds.
Ready-to-rock "Performance View" for each of the 1000 instruments.
Reworked Wave Editor with tools for intuitive looping, slicing and editing.
Freely drawable envelopes per sample.
Improved navigation: Modulation Quick-Jumps, Instrument Navigator.
Over 18 high-end effects.
Enhanced workflow for Scripts with tabbed views.
Universal Import of virtually any sample format.
MIDI loop drag & drop into host application.
New Info Pane in the GUI, seven tutorial videos.
The first thing that caught my eye is the huge 33 GB instrument collection. If you are new to KONTAKT, this is probably also the first thing you will explore after installing the software.
In Part 1 of my review, I will take a look at KONTAKT as a "simple" sample player.
Installation
If you get the boxed version you'll find the package comes in one of those nice big shiny boxes that look great on your shelf.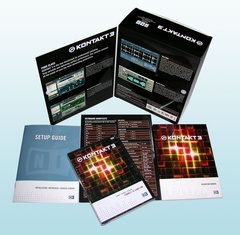 The contents include a setup manual, user manual, keyboard shortcuts cheat sheet, and of course the 6-disc DVD box.
Depending on which libraries you are going to install, you might want to get a cup of coffee before starting the setup (33 GB can take quite a while to copy!).
This would probably also be a good time to start reading the first few chapters of the manual. I don't know anybody who would first read a 300+ pages manual before starting, but you could if you like.
The product activation went smoothly through the Service Center. I've heard this can sometimes be a problematic process, but my machine is connected to the internet and activation was a breeze. After downloading and installing the latest updates it's time to explore the instruments.
The 6 Instrument Collections bundled with KONTAKT 3 are:
Band, standard band instruments: guitar, bass, piano, brass, drums, etc.
Orchestral, superb quality instruments from the Vienna Symphonic Library Orchestra.
World, exotic instruments from around the world, including flutes, bagpipes, percussion and plucked instruments.
Synth, various types of synthesizer sounds.
Vintage, tons of analog synthesizers and keyboards.
Urban Beats, 50 ready-for-action drum loop production kits.
Something for everyone, right? Well, to be honest none of these collections cover my style of music really…
KONTAKT 3 delivers a universe of authentic, immediately usable sounds. The palette spans from world music instruments to big band and on to legendary synthesizers and contemporary club sounds – from fuzz tone e-guitars to classical orchestra instruments: from realistic acoustic drum kits to the latest hip-hop loops.
Browsing through these collections I did indeed find many useful instruments. So yes, I'd say there's something for everyone! Your mileage may vary, depending on the sample libraries you may already own, but I'm pretty sure you'll find instruments to get excited about in these collections too.
I think the "Orchestral collection" is my favorite – surprisingly, since I don't do much orchestral music at all. The included VSL Strings, Woodwinds, Brass and Percussion are all of great quality and instantly sparked my imagination.
When loading the different instruments you'll notice each one has its own look. These are called "Performance views".
Performance views are a unique feature of KONTAKT 3. Built with KONTAKT's own scripting language KSP, they provide custom control panels for instruments, allowing you to set instrument-specific settings with ease.
Third party instruments often also include KSP scripts to give a whole new dimension to the instrument. Soniccouture's Hang Jammer is a good example of such a script.
You can even build your own Performance views with KONTAKT's powerful Script Editor (more about that in Part 2).
Managing the instruments
With more than 1,000 instruments to choose from, how will you quickly find what you need?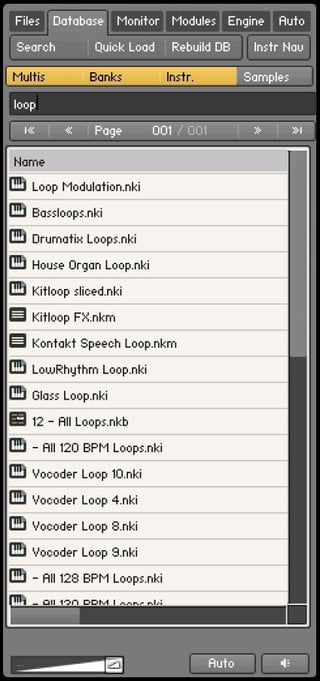 You can browse your file system from within KONTAKT and find your instruments that way. The included instrument collections are installed in separate folders and instruments can be traced quite easily.
You will probably find things much faster using the database, which stores and manages information about all Instruments, Multis, Banks, and Samples that can be found on your computer.
Searching for keywords shows results while you type. When you have found your instrument you can add it to the "Quick-Load Menu".
The quick-load menu is like a system of shortcuts to your favorite instruments. Collect all your favorite Instruments and Multis in your own hierarchical system so it's a piece of cake to recall them next time you want to use them.
So what do I think?
Well, so far so good. KONTAKT 3 is a superb sample player.
The included instrument collections offer a wide range of sounds, suitable for many styles. If you do not have many sample libraries yet, the Instrument Collection offers amazing value for money.
Getting started is as easy as typing a keyword in the database tab and double clicking the selected instrument. Find your favorite instruments or complete ensembles by setting up Multis and using the Quick-Load Menu.
Basic instrument settings are easy to control from the main Instrument view and Performance views are great for setting instrument-specific controls.
Of course there is much more to KONTAKT, so in the next parts I will review some of the more advanced features (i.e. creating your own instruments, KSP scripting, signal processors and modulation).
Native Instruments has a demo out so you can start exploring this massive software sampler yourself.
More information: Native Instruments / Kontakt