First there was the Maschine, then came Maschine Mikro, and now Native Instruments has updated both to mk2 with new software features, an improved controller, and additional hardware accessories.
For those who have never heard of Maschine before, it is basically a combination of music production software with a dedicated hardware controller. A tightly integrated system that can be used standalone – including hosting of 3rd party plugins, or as a plugin in another host. The groovebox-like hardware controller can also be used to control external hardware and software via MIDI with Maschine's MIDI mode.
Now, I realize I am a bit late to the party with this review, and to be honest after checking some earlier reviews I found pretty much everything I would like to say has already been written at Oh Drat. So I'll try my best not to ruminate and list everything you can already find at the Native Instruments website anyway, and instead just mention a few things I found particularly interesting when using the new Maschine.
While the rainbow colored, toy-like appearance did not appeal to me a whole lot at first, I found myself using color coding on sounds and groups pretty much from day one. I already did the same thing in other music production software to indicate groups of instruments, sounds, effects, etc. and having the same kind of thing in Maschine is a definite workflow improvement for me.
Besides having multi-color LEDs, the pads also have a much improved sensitivity. I thought the pads on the original Maschine were really good, but to me the Mk2 is an order of magnitude better still. The sensitivity is just amazing, even at really low velocities. I can now confidently tap away the night without worrying about waking up my kids in the next room.
I also enjoy the new screens a lot better, easier on the eyes and improved readability. It has helped me to do more from the hardware controller where before I would jump to the computer screen. The fact that you can now audition samples from the hardware before committing helps a lot too.

On the whole many of these changes are seemingly minimal improvements, but in fact they are most useful. Like the little click response on buttons, something I didn't even know I wanted until the mk2 came along, what a lovely improvement.
On the software part I feel that Native Instruments has an extremely difficult job. Besides implementing some of the new features to go with the hardware, there are tons of feature requests from existing and potential customers. It is not likely you're ever going to be able to please everyone with any update, much less a point update.
Time stretch/pitch shift is a much requested feature that was implemented, but… for some reason it is not a real-time process. While the results of processed audio is impressive, it kind of stumps me why can't just have a preview and commit function?
The additions of the Transient Master module, some new tape and tube saturation models for the Saturator module, and a free copy of the Massive software synthesizer are nice bonus.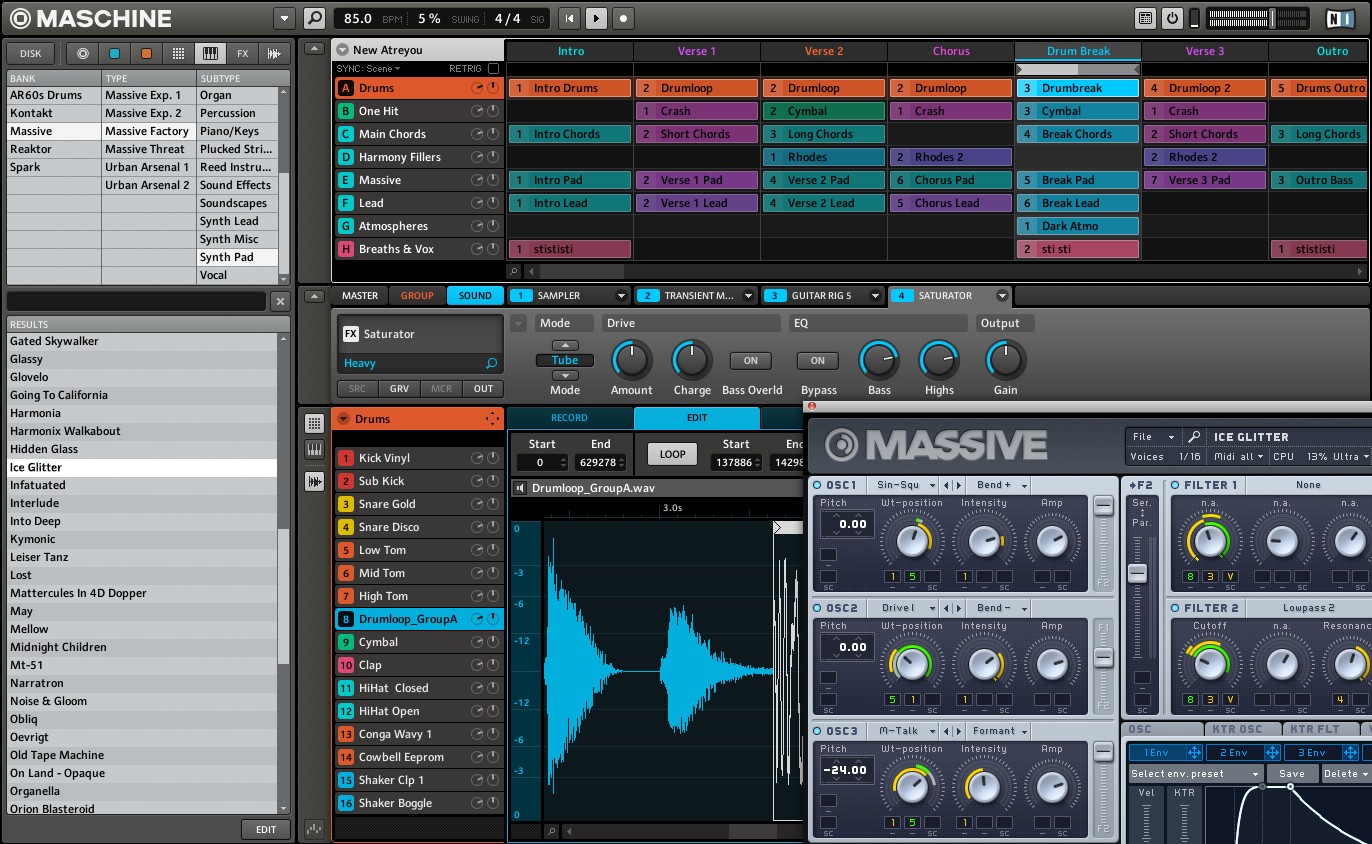 With MASCHINE 1.8, all MASCHINE users get the full version of the modern legend MASSIVE – the synth that gave birth to the earth-shuddering bass tones and speaker-troubling leads that have defined the bass music genre. This monster synth contains 1,300 ready-to-go sounds, all instantly browseable via the MASCHINE hardware. MASCHINE's eight control knobs offer direct access to MASSIVE's eight Macro controls, for perfect synergy between hardware and synthesizer, and a lightning-fast workflow.
It is my guess that over time, Native Instruments is going to be integrating more and more of its sounds & effects into the Maschine package.
There are a bunch more improvements, of which I want to mention one that may seem minor but it certainly made my day. You can now use both your hands for recording automation of parameters by pinning down the "Auto Write". I record automation a whole lot so this little feature is a godsend to me.
What didn't get much attention is MIDI. I work pretty much completely in the box so it's no big deal to me, but if you use a lot of external gear and need full MIDI implementation with MIDI CC and multiple outputs, version 1.8 does not yet bring what you're looking for. Native Instruments never said they would implement this in the update so can't blame them really, but it would be good to see full MIDI support nonetheless. I haven't a clue how much work it is to get it implemented, perhaps it will take version 2.0 to get it…
Lastly, I want to mention the new custom kits and stand accessories.
Some companies were already offering custom stickers and modifications for the original Maschine, so Native Instruments cleverly pulled the market towards themselves by offering a custom kit with faceplate and knobs in various colors. Granted, the pricing of these kits is a bit steep, but I have to say they look really good. Great quality and replacing the magnetic faceplate and knobs is really easy.
The stand is also something you could probably do yourself for less money, but again, great quality piece of hardware and it looks sleek. It can be mounted on standard drum hardware with the included Mounting Adapter.
Alright, to finish I want to show the obligatory Jeremy Ellis video. It should be said that this makes me want to sit down with my Maschine all day, but realize that it is not likely you will ever get anywhere near the amazing stuff he does. At least, this is truth in my case.
Also, for a great overview of everything new in Maschine mk2 and the 1.8 software, check out this excellent video by Dubspot's Matt Cellitti.
So what do I think?
Product
: Native Instruments Maschine mk2
Format
: VST/AU/RTAS/Standalone
Price
: 599 EUR / $669 USD
Like
: Amazing pads, great screens, many workflow improvements, fun!
Don't like
: No real-time time stretch, No full MIDI implementation
Verdict
: 9/10
Improved pads, screens & workflow, new effects and the Massive synth included. No earth shaking features perhaps, but with mk2 the Maschine platform is moving along rather nicely.
At the same retail price of the first model, Native Instruments is definitely offering a superior package with Maschine mk2. For those who already have the original Maschine, the software update is free. Personally, I enjoy the pads and colored LEDs so much to justify getting the mk2, but whether the controller improvements are worth the upgrade or not is up to you.
There is still a lot of room for Maschine to grow, and I am pretty confident that Native Instruments is going to tackle some of the top feature requests in future upgrades, but as is, Maschine mk2 remains an amazing piece of gear. Native Instruments calls it fast, intuitive, powerful and flexible. I call it a joy to work with.
More information: Native Instruments / Maschine mk2