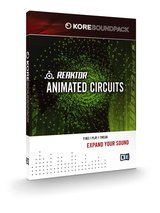 Native Instruments' latest SoundPack is Reaktor Animated Circuits, a collection of four classic Reaktor ensembles and the new Spiral MIDI instrument for use in KORE (and the free KORE Player).
REAKTOR ANIMATED CIRCUITS provides a world of new sounds from the outer reaches of the sonic universe. Based on five exceptional REAKTOR 5 ensembles including the unique, new Spiral sequencer, this KORE SOUNDPACK explores the world of endless, self-generating ambient soundscapes, textures and rhythms. Perfect for various electronic music styles, movie and game scoring, art projects, and more, REAKTOR ANIMATED CIRCUITS invokes a future that ranges from dystopian paranoia to abstract, meditative electronic states.
Reaktor Animated Circuits includes 200 KoreSounds, generated by the following Reaktor ensembles:
SpaceDrone — generates atmospheric soundscapes ranging from light rain or howling wind noises to deep, uncanny space sounds. The instrument takes its power from the 96 parallel voices spread across the entire frequency spectrum. Each voice is shaped by an envelop, while a bandpass filter modified its frequency content. A final panning section positions the signal in the stereo field.
Metaphysical Function — taking full advantage of REAKTOR's potential to create unique instruments, this synthesis machine offers a vast, unparalleled sonic palette ranging from beautiful soothing tones to dark, disturbing soundscapes. More than just a synthesizer, Metaphysical Function offers a truly engaging experience. Equipped with several effect units, its main concept is to constantly alter the level of parallel oscillators to create inspiring soundscapes.
Skrewell — an unusual sound generator whose output can range from meditative atmospheres to crackling harshness. Its engine uses eight parallel oscillator sections that integrate filters and delay feedback to blend everything into one complex signal. Skrewell is designed to be manipulated intuitively. Therefore, all important parameters have been mapped to the KORE 2 and KORE Player controllers for fluid and fast interaction.
Newscool — a REAKTOR classic with an innovative sequencer and characteristic sound engine consisting of a tone generator and a multi-effect unit. Eight parallel oscillator units are modulated extensively, producing a signal to which effects are added. The sequencer is based on the "Life" cellular automation game developed by mathematician John Conway, and enables highly organic evolution of patterns and events.
and the all new Spiral sequencer, a generative MIDI sequencer developed by Lazyfish (Alexander Potekhin) for Animated Circuits.
Here's a video of Spiral in action.
Spiral introduces a unique, intuitive approach to music, with concentric sequencing lanes and advanced algorithms that create fluctuating, kaleidoscopic melodies.
Spiral is a MIDI instrument, so it doesn't actually produce any sound but rather acts as a sequencer, triggering other instruments. Spiral features various algorithms to create patterns and many of its parameters can be controlled from KORE or KORE Player.
Reaktor Animated Circuits is available as a download for $59 USD / 49 EUR.
So what do I think?
This SoundPack is beautiful. I am not going to get a huge amount of use from it in my music, but I do enjoy playing around with self-generated sounds a lot, so for me Reaktor Animated Circuits is absolutely great.
When I reviewed Absynth Twilights I mentioned it was a bit of a YMMV product. The same goes for this new one — perhaps even more so.
Reaktor Animated Circuits features some amazing sounds and experimental musicians will probably find good use for its sounds in their works, but Reaktor Animated Circuits actually seems more like eye candy (for the ear, and the eye when using Spiral in Reaktor) to me than anything else.
That's not a bad thing, but don't expect you are going to be playing these sounds. They'll be playing themselves!
Reaktor users who have ensembles from Bernd Keil, Dieter Zobel or Rick Scott in their favorites folder should have already downloaded their free copy of the Spiral ensemble from the NI Service Center. It's awesome!
More information: Native Instruments