One of my favorite instruments in Native Instruments' Komplete 10 package is Rounds, a hybrid digital and analog synthesizer that features some unique sequencing tools.
ROUNDS is a four-voice polyphonic instrument comprising sixteen sounds that can be sequenced or layered in various ways.

There are two separate sound engines: one based on a subtractive analog engine, inspired by a classic, two-oscillator synthesizer, and an FM engine with three oscillators and a 2–pole filter.

These synthesis models provide up to sixteen sounds, and the essence of ROUNDS is to place these sounds into the Voice Programmer to create new complex layers, unusual tones, textures and rhythms.
I am going to keep this review short, because I think the above sums up Rounds pretty well.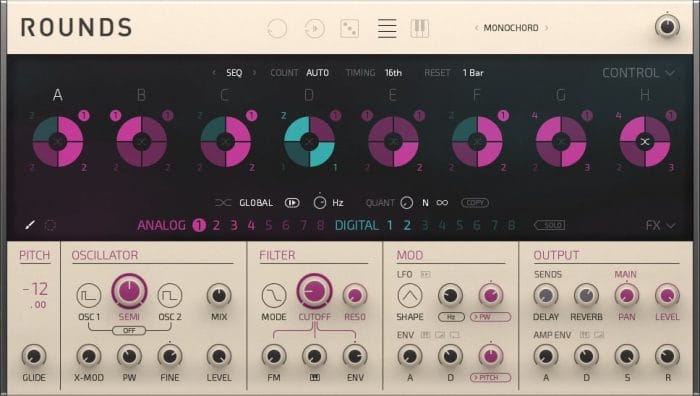 Rounds only has a handful of controls for the synth engines, so sound design isn't very complicated. That said, the combination of the analog and FM synthesis allows for a vast array of sounds, from long evolving soundscapes to fat, deep bass sounds, rhythmic patterns, driving leads, and lots more. The filters, modulation, and effects (delay and reverb) are also to the point.
But what really makes Rounds shine is the Voice Programmer. The way you can sequence and morph sounds is just fantastic. Rounds offers various voice modes, progress modes, and morph settings, allowing for designing complex, dynamic sounds.
Rounds has 8 macro controls that you can easily assign with a Learn function. There is also Remote Octave, a key zone that allows you to manipulate the Voice Programmer in real-time by turning Sound Blocks and individual cells on and off. With the Komplete Kontrol S49 that I am using you also get visual feedback of the key zone, which works great.
Check out the excellent videos by Point Blank for more in depth information.
So what do I think?
Let me start by saying that I simply love Reaktor. I am not much of a builder, but this platform has been used to create so many high quality instruments and effects, both free and commercial. And often Reaktor ensembles have something unique and innovative to offer.
So it is with Rounds. Pair up some great quality synth engines with a very flexible and inspiring sequencer and good stuff happens. It is great for creating dynamic sounds, especially arpeggios, rhythmic sequences, soundscapes.
The interface may throw you off at first, and there is definitely a learning curve when designing your own sounds. I guess Rounds looks deceptively simple, but after spending some time with it you will see that this synth is much deeper than meets the eye. Rounds comes with over 200 presets, many of which I really enjoyed. Studying the presets will also really help you understand how this instrument works.
Rounds is available for purchase for 99 EUR. It is also included in the KOMPLETE 10 package. A free demo is available from the Rounds product page, so check it out.
More information: Native Instruments / Rounds