Music label No Dough was originally launched by Antonio Monllor (aka Towie), as an outlet for his music. After a 2009 re-launch with fellow producer and friend Matt Sargeant (aka Broken), the label grew into a larger community, supporting a roster of artists producing and performing in various genres.
With NDS-1 House Music, No Dough takes the next step into sample library development.
The first in our Premium range of Sample-Packs for the Professional Producer, NDS-1's extensive collection of samples offers the highest levels of quality and workability bringing together great tones in an instantly usable way.

Clever and user-friendly features such as Kontakt4 custom front-ends and the addition of midi files for all loop compositions are built-in to this high-end pack meaning your music will benefit from the quality, sought after sounds of the best equipment enabling you to concentrate on what matters most when composing … creativity.
NDS-1 House Music includes over 7,000 samples in total.
Here's a breakdown of the content:
Drums & Percussion

– over 4,000 samples in various folders/categories (kick drums, claps, snares, hats & cymbals, drums & percussion, and fx). Each sample has 4 recording variations: two analog tape machines (Studer A800 & Revox), an MPC, and the original, all recorded through a chain of high-end outboard processing units.

Loops & Progressions

– includes 185 .wav loops, 178 REX2 loops, and 66 MIDI files. These are bassline and synth loops, no beats.

Synth & Bass Instruments

– 63 multi-sampled instrument patches for Kontakt. Sound sources used include Roland's Juno 60, Alpha Juno and Jx3p synths, and Oberheim synthesizers.
The single shot samples feature a good assortment of generally well recorded and useable drum sounds. By recording with different techniques you get slight variations, sounding a tad more muffled, or louder/driven, etc. The recordings are not always consistent, in that some of the sounds have a lot more tail than others.
Interestingly enough the drum sounds are all in stereo, and even though many samples are basically mono on a stereo track, for some of the samples the stereo field is quite apparent, underpinned by the use of reverb in the signal chain. Some of the samples in the hats & cymbals section – the crashes in particular, have so much juice on them it really makes it hard to fit them in your mix as is. Fortunately the majority of the samples don't have this problem.
Loops come in bassline and synth folders, plus REX versions. Files are tempo and key tagged for ease of use (110-120 bpm for bass, and 105-124 bpm for synth). You also get 66 MIDI files in case you want to reconstruct or modify the melody of a particular loop. Some of the loops have similar titles across bass and synth folders, nevertheless this is no construction kit type library. NDS-1 provides a bunch of fine-sounding loops for you to work with, but there's no connecting the dots here.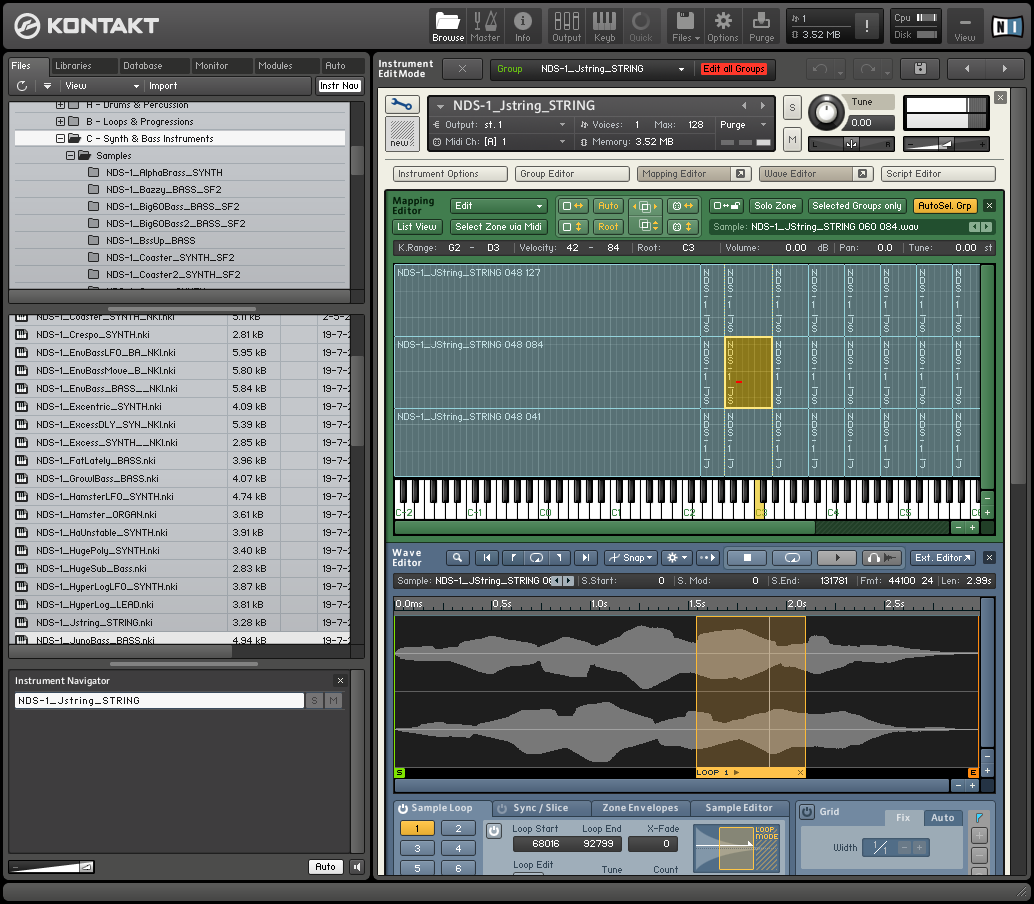 The last folder in this library features 63 patches for Kontakt (note that EXS24, NN-XT, and SoundFont versions are also available). Here we find lots of great multi-sampled bass and synth instruments, as well as some leads, strings, and a few piano instruments. The general tone is vintage, fat and lush.
When I first received the library the instruments didn't have loop points, quite an essential feature if you ask me. I contacted Matt of No Dough to see what was up and it seemed this issue was due to a glitch that occurred when creating the patches from a different source format.
The same day I received updated patches with loop points (which are now also included in the online product). Note that the loop points still aren't always perfect but I expect this, it's real hard to create good seamless loops from sampled analog gear.
I ran into some other small problems like a missing background image for Kontakt instruments, but it only took a quick email to get things fixed so support from No Dough has been great so far.
Check the audio demos below to get a good idea of what you can expect from NDS-1.
So what do I think?
Product
: NDS-1 House Music by No Dough
Format
: 24-bit WAV/REX2 + MIDI
Price
: £39.99 GBP
Like
: All-round, Good sounds and Kontakt patches, great support
Don't like
: Some minor technical hiccups (got fixed fast though)
Verdict
: 8/10
NDS-1 certainly has a bit of a house music flavor to it – especially in the loops section, however the sounds in this library will do fine for any kind of electronic genre really.
Comprising single shot drum samples, melodic loops, as well as the building blocks to take it your own direction with MIDI files and sampler patches, NDS-1 House Music offers a nice all-round pack of good quality sounds for electronic music producers.
No Dough is relatively a small-time developer, which may explain some of the small problems I experienced with design & consistency of the production of this pack. On the other hand I am seeing blazing fast support, something some of the big guys can learn from. Everything considered NDS-1 has plenty to offer, particularly when it comes to musicality. You can hear this sample library is a labor of love, done by producers, for producers.
No Dough is generously offering rekkerd.org readers a £10 GBP discount on NDS-1 for a limited time (£29.99 instead of £39.99), so if you're interested make sure to check it out.
More information: No Dough Samples