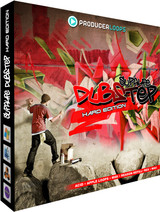 French producer Eddy Beneteau is back with another dubstep title for Producer Loops: Supalife Dubstep: Hard Edition.
'Supalife Dubstep: Hard Edition' raises the bar yet again, with five jaw dropping construction kits designed to stand out from the crowd and take your productions to new heights. Includes loops, samples, MIDI files and a range of formats. With 2.2GB of content per format, you'll find plenty of inspiration for your future Dubstep projects.
This library is available in various formats. For this review I used the WAV/REX/MIDI version.
Supalife Dubstep – Hard Edition features
5 dubstep construction kits, including nearly 800 loops and samples.
Includes wet & dry loops, single shot sounds, and unlooped riffs including tails.
171 MIDI loops.
2.82 GB content, 24bit/44kHz audio format.
The library neatly unpacks the five construction kits into separate WAV and REX folders, and individual folders for dry loops, MIDI loops, notes, and unlooped samples within each kit. The files have descriptive names indicating the kit, instrument, part, bpm, and key (if applicable).
Construction kits, what's in it?
Each kit in this library includes about 80-120 processed (wet) loops in the same theme. You get all the isolated elements within the theme — bass loops, drum loops (and single drum sound parts), synth loops, etc.
For those not familiar with the concept of construction kits, these are basically finished tracks/themes split into individual parts. This is great for easy mixing and matching of the loops. However, as several loop variations are usually provided it also means you can get quite a bunch of nearly identical samples. For loops with single hit elements (like drum sounds) it can get kind of silly. To illustrate just take a look at some of the clap loops from the Electro Plasm kit here and here.
I would much prefer to just have a MIDI with single shot sounds instead of these 32 bar audio files with just one (of the exact same) clap sound more or less. Interestingly enough only the Ghost kit includes a (single) acoustic drum MIDI file and an 8 bar cymbals MIDI. And although the product page mentions this library includes one-shot drum hits I could not locate a single drum sample.
Besides the processed (wet) loops you also get a selection of the exact same loops as uneffected dry samples, so you can add your own reverb etc. and many unlooped samples are included as well. Very useful, and actually quite essential to have. Some producers just don't even bother with providing tails and work them into the start of loops instead, or completely avoid having tail sounds in loops altogether.
The 171 MIDI loops mostly cover the melodic content so you can use them with the included single shot samples to create similar melodies, or use other sources like virtual instruments.
The single shot sounds in the "Notes" folders feature the same type of sounds that are used in the loops. Most of them have a long sustain with some movement or modulation, which is great as long as you stay around 140bpm. I do prefer the samples longer rather than shorter since you can easily set an envelope in your favorite sampler and get some nice short stabs & hits as well, but it's much harder to create good sustained/looped sounds from short samples.
The single shot sounds are processed, but not entirely the same as the corresponding loops.
Did you hear the difference? The first 32 bars in the audio clip above is a single loop from the Ghost Kit, followed by 32 bars of the corresponding MIDI with a single shot pad sound. The loop has some kind of additional modulated filter effect.
So what other sounds are includes in these kits? Wobbly bass lines, hard-edged leads, in your face beats, atmospheric pads and fx, it's all there. Just check out the official product demo below. You will get everything you hear, broken down into elements.
So what do I think?
Product
: Supalife Dubstep: Hard Edition
Format
: 24bit/44kHz samples (Acid Wave/Apple Loops/REX/ReFill) + MIDI
Price
: £29.95-34.95 GBP / £8.95-9.95 GBP per kit
Like
: sounds, themes, MIDI files and some single shots included
Don't like
: construction kits = limited versatility, no single shot drum sounds
Verdict
: 8/10
Perhaps it is a bit unfair to mention since the sample library is marketed as a collection of construction kits, but this format is a bit of a limitation for me. With a small amount of single shot sounds and a connect-the-dots type approach this pack feels more like a remix library than a music production library.
So if you are looking for a versatile sample pack for dubstep music production this is probably not the one you should get, unless you're willing to spend a good amount of time on slicing and dicing these loops.
Format aside I must compliment Eddy on his production skills. Whether it's drum & bass, electro & tech house, breaks or dubstep, he seems to effortlessly bring some of the best samples in each genre.
Since the genre has gained mainstream popularity in recent years many dubstep sample packs have been released, yet many sound weak and completely unoriginal.
Supalife Dubstep – Hard Edition stands out from the crowd, delivering a consistent high quality and up-to-date sound. The musical themes are just great; high energy, raw & aggressive. This is the Hard Edition alright.
Overall this is one of the best dubstep sample packs available right now and as long as you don't mind the construction kit format you can't go wrong with Supalife Dubstep Hard Edition.
Check Producer Loops for details and don't forget that this Pick 'n' Mix product also has the construction kits available to purchase separately.
More information: Producer Loops / Supalife Dubstep – Hard Edition