If you are a regular reader of this website, you may already know I really like electric pianos. Although I would love to get my hands on a real EP, in my current setup it just makes a whole lot more sense to use virtual instruments.
Scarbee has been offering sampled EP instruments for some years now, and they're quite serious about it.
The products page reads:
Rather than offering a 'grab bag' of many instruments which have been sampled to an 'acceptable' level, SCARBEE focuses on a single instrument rendered to a level of detail previously unavailable to sample users. By deep studying and thorough restoration/setup we aim to capture the "soul" of the instrument and try to balance sound, playability and post-editing for a perfect match within the limits of current sampler technology.
Capturing the "soul" of the instrument, now that's what I'm looking for!
Samples, samples and more samples
I frequently use physically modelled virtual electric pianos. The obvious advantage of these instruments is that they require little system resources and have great versatility in sound, with lots of parameters allowing you to tweak the sound to your liking.
But what if you're looking for that authentic sound of those 60's and 70's EP models… doesn't it make sense that an actual sampled instrument is going to match that particular sound the most? I would think so.
Scarbee's Vintage Keyboard Collection features 4 different types of sampled electric pianos. Now you will not find any specific names of specific piano brands or models in Scarbee's product descriptions, but I think you'll be able to figure out what type of EP's were talking about here*.
Vintage Keyboard Collection includes
C.E.P. – Classic Electric Piano, the sound of a hot-rodded wonderful electric piano from the 70s! C.E.P. has expression and dynamics ranging from warm and mellow, to bright and 'barking', but can also produce a dulcet bell-like tone very suited to jazz, funk and R&B.
E.E.P. – Edgy Electric Piano, has a dynamic and versatile sound and tends more towards an 'edgier' sound. Certainly, it can deliver a 'soft and sweet' tone, but its light action allows players to easily deliver a performance with more 'bite'.
F.E.P. – Funky Electric Piano, has a big round 'twanging' bottom end and a top end which was wiry and tight. For many, this is as close as they will ever get to a sound which could compete with the cut of an electric guitar. The sharp tone and percussive playing style made it a first choice for many funk recordings where it complemented funk guitar rhythms like no other instrument.
S.E.P. – Sticky Electric Piano, lies somewhere between the reedy bite of the E.E.P. and the purer bell tone of the C.E.P. The result is a vibraphone type tone with a very percussive envelope and almost no dynamic response due to it's "sticky hammers".
The whole collection of electric pianos includes some 18,000 samples! Each of the libraries comes in various formats (Kontakt, HALion, EXS24) and "lite" versions are included to accommodate systems with little memory.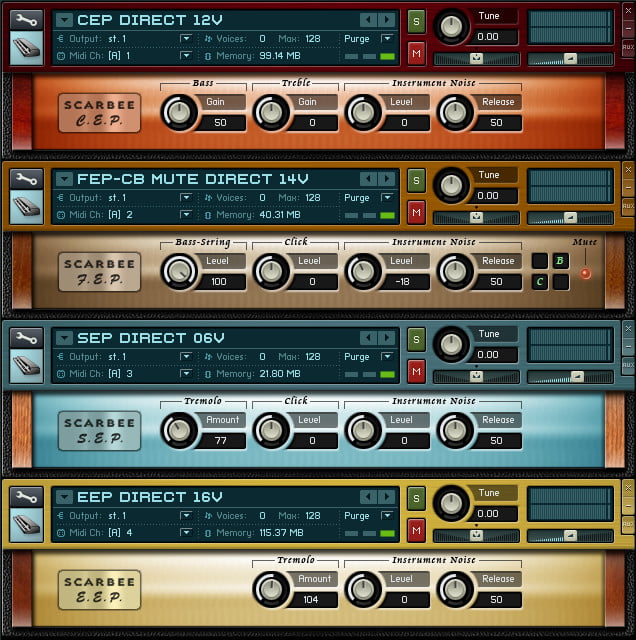 I've tried the Kontakt instruments, which all have a custom GUI for easy access to instrument parameters, i.e. instrument noise, tremolo, click, etc.
Nice little detail: The A-1 key plays original noise from the instrument looped.
With the Noise knob you can adjust the level of the noise – take it completely away if you like a clean sound with zero hum and hiss!
I would post some sound clips, but hey, Scarbee already has some excellent demo tracks available for audition on its website.
Expand the sound!
Scarbee's electric pianos sound really nice, but they're sampled instruments so you may find the sound lacking in versatility. No worries, Vintage Keyboard FX to the rescue.
Vintage Keyboard FX is a virtual rack of various vintage analogue effect processors.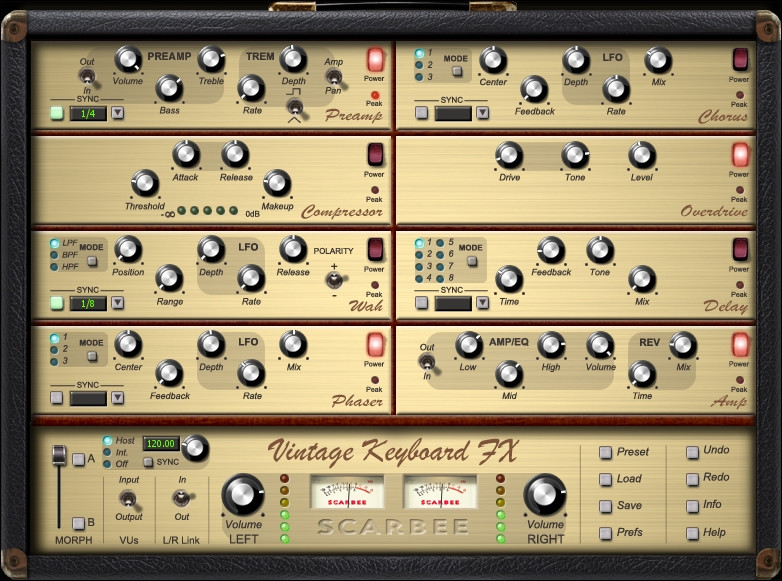 Vintage Keyboard FX features
Effect modules: Preamp (with stereo tremolo), compressor, wah (envelope filter), phase shifter, chorus, overdrive, (tape) delay, and a valve amp (modelled on a popular model, includes the four spring reverb).
Multiple mode switching allows module architecture to alternate at the touch of a button.
Control the effects chain with module drag and drop.
A-B presets morphing makes experimentation and creation of new sounds addictively effortless.
Sync rates and times to VST host, internal clock or left independent for a more 'analog' approach.
Parameter automation, flexible presets management, and more.
Also included with the VKFX is the D6-C filter, an emulation of the 4 filter/equalizers of the original instrument sampled for FEP.
The VKFX plug-in comes with a lovely bundle of presets, showcasing the wide range of effects it can do. It supports VST, AU and RTAS formats so you can use it with Windows and Mac.
So what do I think?
These pianos sound hot! Seriously HOT if you ask me. I thought these sampled instruments would perhaps lack some of the expressiveness that physical models provide, but I was pleasantly surprised how wonderful Scarbee's instruments perform in this area. Playability is excellent and sound wise, well… this is the real deal, isn't it.
Now whether you actually like the sound of the particular models Scarbee has sampled or not is a matter of taste (identical EP models don't necessarily sound the same), but I think they sound fantastic.
The VKFX plug-in is an excellent effect rack, providing modules that allow you to create classic signature sounds, or build completely new and non-traditional effects. You may already have a number of effects that you could use instead, but VKFX has been developed specifically as a partner for Scarbee's EP's and it shows. And since it is a plug-in, you can also use those vintage keyboard effects with other instruments, vocals, etc.
The Vintage Keyboard Collection is available for Kontakt, HALion and EXS24, for 219 EUR (ex. VAT), and the Vintage Keyboard FX plug-in is included in the Keyboard Gold Bundle for 289 EUR (ex. VAT). The plug-in is sold separately for 149 EUR, so the Gold Bundle makes for a great deal.
Visit Scarbee for more information and audio demos.
* A few years ago Scarbee decided to no longer use specific brand names, due to some legal issues with trademark owners. Rest assured these sampled electric pianos are the "real thing".