Circuit bending has gathered quite a lot of attention in recent years. Sure it's not for everyone, but blogs like Create Digital Music, GetLoFi, Make, etc. show there is plenty of interest in the art of modifying electronic devices by short circuiting them. If you are not really sure what I'm talking about, check Wikipedia here.
Sidsonic's Circus Circuit Bending Library isn't the first sample library that is all about circuit bending. It is however one of the most extensive ones I have seen so far, and the first Kontakt Player based one to my knowledge.
Perhaps not essential but well worth mentioning is the physical design & packaging of this sample library. Where many developers choose to provide downloads only, or simple DVD boxes with half a page worth of info, Sidsonic is doing the opposite entirely.
The box CCBL is shipping in is a proper piece of art (click the image to enlarge).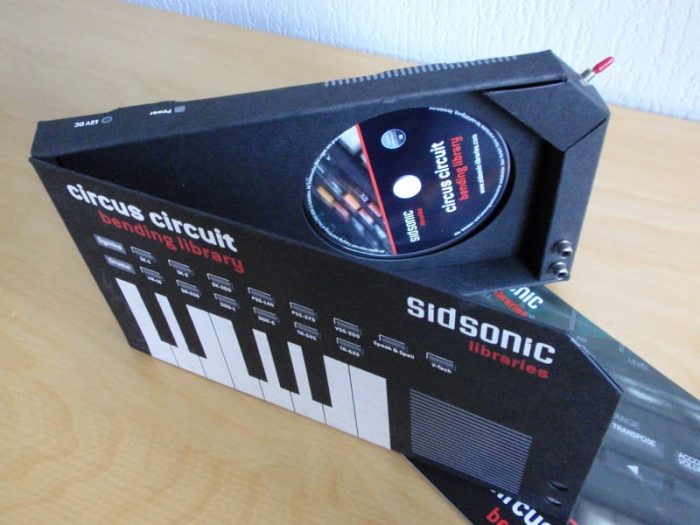 RCA sockets keep the lid in place and a lovely little red dip switch is located on the top right. Useless, you say? Sure there is no need for such a fancy box, but for me it certainly adds value to the product. Even before you get to hear the sounds of CCBL the packaging already shows that these guys are passionate about their work.
The sample library comes with a 36-page booklet that has extensive information on circuit bending, the Kontakt interface pages & controls available, and the instruments/devices used for CCBL and what was done to them to get these circuit bent sounds.
From the booklet:
Already from the first personal experiences of sound bending that emerged from the circuit board of a small electronic guitar and a connecting finger we noticed the potential that Circuit Bending harboured.

Sounds were suddenly able to develop playfully, the likes of which could otherwise have only been possible using complex technology. The first pieces of equipment gathered quickly and it was obvious, that Circuit Bending can be used for far more than for creating just a few typical textbook sounds. The Circus Circuit Bending Library is our way to further extend the art of Circuit Bending and take the distinctive sound of it out into the world. We aim to make it possible by using a simple way to explore the depths of sound bending without having to deal with individual pieces of gear, modification or emerging problems. To this end, a vast array of toys, drum computers and keyboards have been rebuilt, recorded and remodelled so that the emphasis is focused on establishing the largest sound collection possible. The result is a simple, honest remodelling.
Drums and synths
Sidsonic sampled over 18,000 sounds for CCBL, using a total of 14 circuit bent instruments as sound sources. From these samples they constructed nearly 180 synth and drum kits in Kontakt.
Circus Circuit Bending Library instruments
Casio SK-1, SK-2 & SK-200

, sampling keyboards from the eighties.

Alesis HR-16

, 16-bit drum computer featuring 49 digital PCM samples.

Boss DR-550

, drum computer with 48 16-bit PCM samples.

Korg DDD-1 & DDD-5

, dynamic digital drums with respectively 18 and 14 sounds, features some typical eighties drum sounds.

Roland TR-505 & TR-626

, the 505 has 16 drum sounds, while the 626 comes with 30 (12-bit samples).

Yamaha PSS-140 & PSS-270

, two 2 operator FM keyboards that come with 100 preset sounds.

Yamaha VSS-200

, 8-bit sampling keyboard, FM synthesizer with 100 presets.

Texas Instruments Speak & Spell; V-Tech

, the well known educational toys featuring a speech synthesizer.
Each of these instruments was circuit bent by soldering sound chips, connecting patch bays, adding switches to the devices, etc., resulting in those typical sounds– noisy, raw, dirty, lo-fi, harsh… you know, messed up.
The Kontakt instruments created from the massive amount of sounds (I can only imagine how much work it was to turn over 18,000 samples into 179 instruments!) are categorized in synths and drums. Inside each section the various instruments are listed with a number of Kontakt patches.
These instruments are not simply a bunch of samples mapped across the keyboard either. Five custom Kontakt pages are available in each instrument to modify the sounds to your liking. There are many useful controls for envelopes, LFO's, and various effects (send/insert/master). The drum instruments have five groups (basedrum, snare, toms, cymbal, and percussion) so you can assign filters and effects per group, very handy. Another cool feature is the use of circuit bent sounds in the convolution reverb found on the Send FX page. CCBL comes with 23 long & 21 short "impulse response" files that will turn sounds around in quite unexpected ways.
Check the illustration below for a detailed overview of the signal flow of CCBL's instruments.
So what does CCBL sound like? I made a few quick demo loops which you can check below.
The Sidsonic Libraries website has some more audio clips.
So what do I think?
Product
: Circus Circuit Bending Library by Sidsonic Libraries
Format
: Kontakt Player 3.5 (VST/AU/RTAS/Standalone)
Price
: 189 EUR MSRP
If I could only have one circuit bending sample library, Circus Circuit Bending Library would be it. This thing is massive. It is amazing how many Kontakt instruments Sidsonic was able to build from just 14 sound sources. The instruments are really well done, ready to play straight from the box and easily tweaked with the custom Kontakt pages. There's a lot of noise, glitch and whatnot in the sounds, yet they remain very playable. Especially in the synth section Sidsonic has worked hard to provide sounds which can be played across the keyboard.
This library truly feels like a labour of love, with much attention to detail and an overall high quality in every aspect of the product.
If you are only remotely interested in circuit bent sounds you should probably just pick up some of the free sample packs available on the internet. However, if you are serious about using circuit bent sounds (and you don't want to do all the hard work yourself) you should definitely check out CCBL. I guarantee you will not be disappointed.
Sidsonic has a free demo (includes a drum and a synth instrument) for your Kontakt Player available to download on the CCBL product page. Try and see how you like it.