Toontrack's latest expansion for EZdrummer and Superior Drummer 2.0 is The Blues EZX, a sound library featuring two drum kits and MIDI grooves played by seasoned drummer Hans Lindbäck.
The Blues EZX comes with two complete kits; A 1970s Gretsch And A Calfskinned Swedish Levin set from the 1940s.

On top of that, it features contemporary Paiste and Sabian crashes, vintage Zildjan A and K series cymbals as well as extras such as a suitcase and a set of calfskinned tambourines. All instruments were handpicked and in many cases road-worn by the sampling drummer himself, a blues musician with more than half a decade worth of experience behind the kit playing the blues.
The Gretsch kit includes a nice versatile 14×20″ kick drum, a deep, fat sounding 5½x14″ Slingerland Radio King snare, and 8×12″ and 14×14″ toms. An alternative preset is available for the Gretsch kit, swapping the kick and snare with a suitcase and a 30's 6½x14″ Premier Brass snare.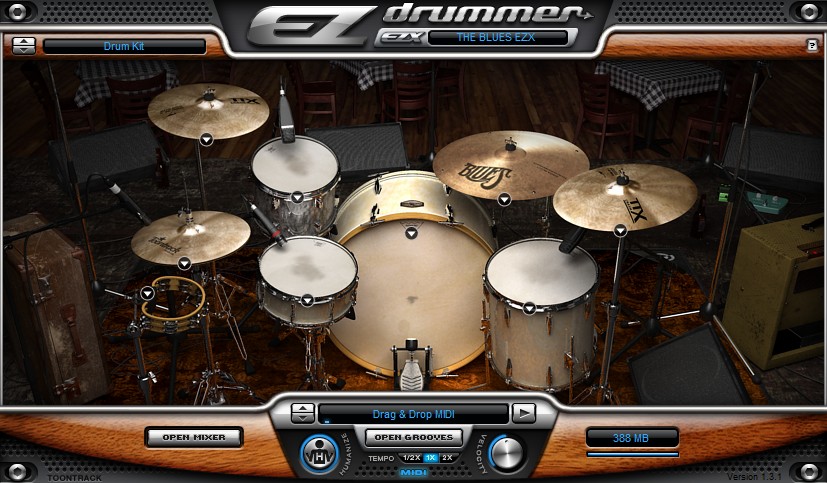 The Levin drum kit includes a deep 14×28″ kick, a 60's Premier Wood 5½x14″ rich sounding snare, and high and low tuned 9×12″ toms. These drums all have calf skinned heads.
One hihat is included in all kits, a 14″ Zildjian New Beat/Rock Beat combo, another choice for versatility. The cymbals include vintage 60's Zildjian A and K series rides (19″ & 20″) and crashes (10″, 12″ & 18″), as well as a 16″ Paiste crash and 16″ and 18″ Sabian hand hammered crash cymbals.
Finally, two additional Grover Tambourines round off the setup.
The Blues EZX comes with a library of MIDI grooves, 13 songs in total in shuffle, swing, straight and 12/8 categories. Song include a number of grooves with closed hihats, open hihats, cymbals, breaks, fills, intros and endings. The library spans a large variety of tempos, from 80 to 198 bpm.
Check the video below for a quick impression of the sounds and grooves.
So what do I think?
Product
: Toontrack The Blues EZX
Format
: EZdrummer / Superior Drummer 2.0
Price
: 69 EUR / $89 USD
Like
: Spot on drum sounds and grooves, versatile kits
Don't like
: —
Verdict
: 9/10
The Blues EZX drums and cymbals have been sampled with a good variety of articulations and the included kit pieces offer sounds for a range of styles, from jazz to blues to pop/rock. Hans Lindbäck provides a great set of songs with plenty of variations, interesting fills and breaks, and most important, an authentic blues vibe.
Having played guitar in a blues band for a number of years, I really enjoyed The Blues EZX. It feels very natural and I would have loved to have the sounds of these drum kits in our band back then. While to me, blues is all about playing together, this sound library is great for rehearsing, working out ideas, or doing studio work where you would normally get a session drummer.
In short, the Blues EZX is a solid, high quality set of drum kits and grooves that are great for blues music and beyond.
More information: Time+Space