Users of Zebra have no shortage in sounds for this virtual modular synthesizer. Thousands of patches are available in both free and commercial soundsets. U-he's latest offering – The Dark Zebra, is a little more than just a collection of patches.
A bank of over 400 presets, a collaboration between Hans Zimmer and Howard Scarr. Practically all Zebra sounds in the The Dark Knight as well as The Dark Knight Rises soundtracks are included, plus several more that didn't quite fit into the scores.

The pack also includes Hans' custom built update from a licensed Zebra2.x to the version you can see in this video, ZebraHZ. Many of the more recent patches make use of the extra features available in ZebraHZ.
So not only does this soundset for Zebra 2.5 include hundreds of sounds straight from the brilliant minds of Hans Zimmer and Howard Scarr, it also comes with a custom Zebra version that was made specifically for Hans' scoring of the Dark Knight movies.
Additional features of ZebraHZ include:
analog filter models such as the ones found in Diva,
polyphonic compressors,
2 additional modulation mappers,
and a Polymoog-like resonator effect module.
The new filters are available from the DIVA VCF tab in the bottom bar of the GUI.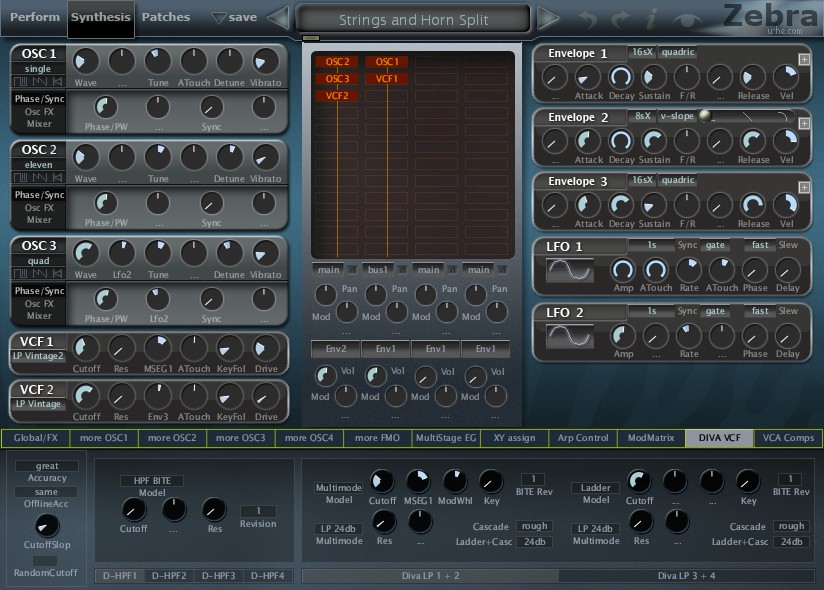 You get 4 highpass filters and 4 lowpass/multimode filters. The HP filters include two models – Pre and Bite, and the 2 pairs of lowpass filters have Ladder, Cascade, Multimode and Bite models. Controls for cutoff, resonance and key follow are available, and three unlabelled knobs can be used to set modulation depths for assigned sources (two for cutoff, one for resonance) for each filter.
Since these filters can consume quite a bit of CPU, it's good to have some quality parameters so you can work in draft mode and render with high audio quality. You can also get some random cutoff values on the filters with an additional "CutoffSlop" control.
ZebraHZ comes with an individual polyphonic compressor for each one of the 4 lanes. Polyphonic means that these will apply compression for each single note! You can imagine this takes some processing power so you can deactivate them to save some CPU.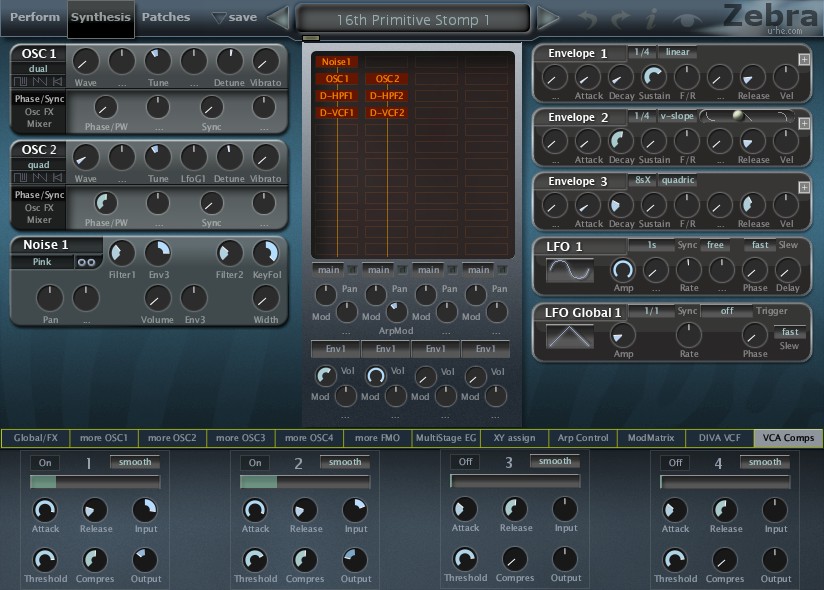 The lane compressor modules are particularly useful for doing percussion/drum type sounds where transients matter.
With two additional modmappers in ZebraHZ (also included in the latest regular Zebra plugin) you now have a total of 4 flexible modulation map modules to add even more modulation to your sound.
The new Resonator module (Res1) is available from the effects grid on the Global/FX tab. This emulates the 3-band peaking filter found on Moog Music's Polymoog analog synthesizer.
One of the very first polyphonic synthesizers ever included a 3-band peaking filter that could be used to dramatically shape the overall sound.
ZebraHZ takes this concept and extends it with an extra full range band (60Hz-7.5kHz). The Resonator has various filter color modes, and the filter mode includes lowpass, bandpass, a bandpass variation with inverted second pole, and highpass.
Interestingly enough, many of the patches in The Dark Zebra don't use any of these new features. Regardless, the additions are great to have.
As for the sounds, The Dark Zebra has a total of 400 patches which are categorized as follows:
Basses and Drones (33)
Bells and Metallurgy (26)
Drums and Clocks (64)
Effects and Chaos (38)
HighArps and Chords (72)
Lead and Horns (47)
LowArps and Stomps (50)
Pads and Keys (46)
Xtras (24)
As you would expect with sounds that were used in the soundtracks for The Dark Knight and The Dark Knight Rises, many of them have a dark and cinematic feel to them.
Howard programmed most of the sounds to be performed with mod wheel, pitchbend, pressure and breath control, making them very dynamic. The patches come with information on the sound, how to use it and which controls are assigned to which parameters so you get an idea of how they were intended to be played.
Check Jarkko Hietanen's amazing demo below to hear some of the sounds of The Dark Zebra in action. Only Zebra was used for this track!
So what do I think?
Product
: The Dark Zebra by u-he
Format
: .h2p patches + ZebraHZ VST/AU plug-in
Price
: $99 USD incl. VAT (EU)
Like
: Brilliant sounds, excellent for studying Zebra sound design
Don't like
: Costly for new Zebra users (since Zebra 2.x is required)
Verdict
: 9/10
It is a real testimony to u-he's Zebra, that a famed composer like Hans Zimmer chooses to use this particular synthesizer for his soundtrack scoring. Browsing the sounds of The Dark Zebra it is clear to see why this flexible, high quality instrument was used. But a good synth only gets you so far.
I reckon a decent sound designer can make a bad synth look pretty good. How much more can a brilliant sound designer do with a fantastic synth? Howard Scarr is a true master of synthesizer programming, and in this collaboration with Hans Zimmer his skill, knowledge and dedication bears much fruit.
The sonic range of The Dark Zebra offers small and beautifully intricate to gripping, fast-paced and chaotic. Highly cinematic, but not limited to film scoring, this soundset is both an archive of hundreds of beautifully designed sounds ready for use in your own productions, as well as a peek into top notch sound design with Zebra. It is well worth studying the patches to learn how particular sounds were achieved.
Though the soundset didn't actually end up using the new features in a whole lot of its patches, it's still great to have the Diva filters, resonator, and lane compressors in ZebraHZ for your own sound design.
The only downside is perhaps the price tag. Even though ZebraHZ comes as its own plugin, you do need a license of Zebra 2.x to use ZebraHZ and the soundset. I personally think that The Dark Zebra is well worth the price, but new users will have to pay a considerable sum to get the whole package. That said, Zebra *is* a most excellent synthesizer, so it's not a bad thing to pick it up anyway.
More information: u-he / The Dark Zebra