Xfer Records released Serum a little over a year ago, and it has made quite an impact.
Here's what it says about Serum on the website of Xfer Records.
Why Serum? The dream synthesizer did not seem to exist: a wavetable synthesizer with a truly high-quality sound, visual and creative workflow-oriented interface to make creating and altering sounds fun instead of tedious, and the ability to "go deep" when desired – to create / import / edit / morph wavetables, and manipulate these on playback in real-time.
Even if you've never heard of a wavetable synthesizer, the odds are you know at least one: Native Instruments Massive. The concept is basically that the synth uses a set of waveforms for its oscillators. A wavetable may have one or more waveforms, and you can scan through the table in various ways to create evolving sounds.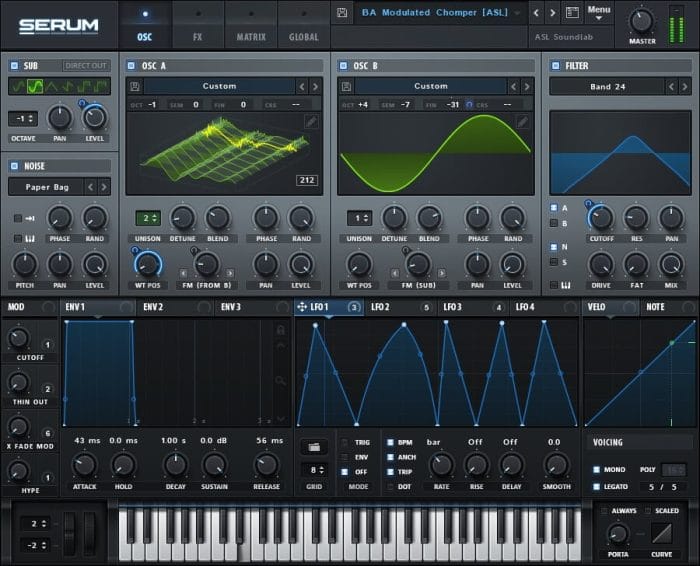 Serum's developer Steve Duda took 3 years to create his dream wavetable synth, taking the concept to another level.
Serum features
Two wavetable oscillators, consisting of up to 256 frames each.
'Analogue' styled Sub Oscillator.
Noise Oscillator (.wav based with HQ resampling, one shot 'attack' option).
Comprehensive wavetable editor:

Import audio directly from audio files – Serum has a variety of methods and options for importing + analyzing audio (WAV or AIFF) for breaking it apart into individual waveforms. You can import single-cycle wavetables of course, as well as many at once (with in-built sorting options, or manual re-ordering).
Draw directly on the waveform, with optional grid-size snapping and a variety of shape tools.
Generate or modify/process waveforms using FFT (additive).
Create or even process waveforms using formula functions.
Morph between various wavetables using standard linear interpolation (crossfading) or via harmonic/spectral morphing.
Processing menus allow you to do the other tasks you would want, such as apply fades, crossfades, normalize, export, and much more.

Ultra-clean/low-aliasing, aggressively optimized SSE2 oscillators.
Manipulate the waveforms in realtime in a variety of ways (including FM/RM/AM/Osc Sync/custom warp modes/user-definable remaps).
Mod Matrix and drag-drop mod sources directly to destination knobs/controls.
89 filter types (Flangers/phasers/ladder/svf/zdf/combs/morphing/dual types, and more).
Integrated effects rack with 10 re-orderable / modulator effects.
Advanced unison parameters for custom tuning/stack/warp/depth/spread and more.
Hundreds of factory presets and default wavetables made by many industry-acclaimed sound designers.
Flexible break-point style LFOs.
Visual feedback for modulator depths directly on knob destinations.
I am not going to go over each and every detail of the synth, as there is simply too much ground to cover.
Check the video series below for an overview of Serum, with Icon Collective's David Alexander and Steve Duda himself.
So what do I think?
In short, Serum is just brilliant. What a fantastic synthesizer.
The sound is great, clean and rich. With a host of factory wavetables (analog, digital, spectral & vowel) and the ability to use your own waveforms, you get an incredibly versatile sound palette. It takes some CPU, but the sound quality is definitely top notch, and it's easy to create huge, fat sounds, especially with unison detuning.
You might expect Serum to sound very digital, but it can also do analog type sounds well. Steve has implemented some neat tricks like Chaos LFO's to introduce subtle variations in the sound so you can do things like analog type oscillator pitch drift. Love that!
The interface is most beautiful and probably one of the best I've seen when it comes to easy of use. You can create very complex sounds without things getting too complicated. With clear visual feedback on the interface and handy tooltips on all controls, it's hard to get lost.
The modulation system is also done really well. Simply drag and drop to assign parameters, and for more detailed control you get a full mod matrix page. The envelopes and LFO's are flexible and with the visual animations you can instantly see what is happening as you design your sound.
Serum also comes with a bunch of useful effects, such as a compressor, reverb, delay, chorus, etc. The filter here is the same as the multi-mode filter available on the oscillator tab, but here it's a master effect.
Lastly I'd like to mention the waveform editor. It might seem a bit daunting at first, but after spending some time with the editor you will find this part of Serum is very powerful, yet again, easy to use. You can import your own single-cycle or multi-cycle waveforms, draw and edit with handy tools, process single frames or the whole table in various ways, control waveform harmonics, and more. You can even enter math formulas to generate waveforms.
There is a lot more to Serum so go check out the free demo and see how you like.
The full version costs $189 USD at Xfer Records and from distributor ADSR Sounds. Not the cheapest synth around, but well worth the price if you ask me. You can also get Serum at Splice's Rent-to-Own platform for just $9.99 USD/month.