Rhythmic Robot has announced the release of Cloud Chamber, a hybrid synthesizer instrument for Kontakt, based around samples of three kinds of acoustic wind instruments, wired to a "Sine Bank" of 8-bit sine waves pitched to the harmonic series.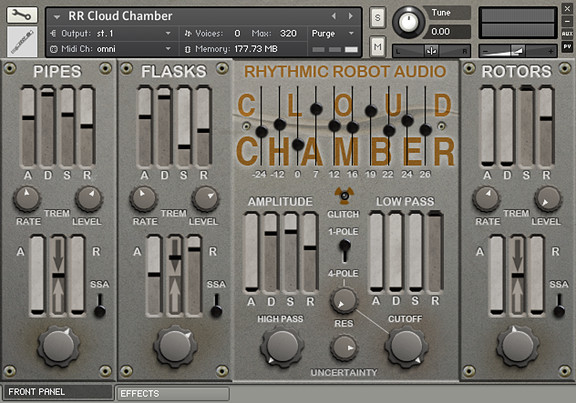 The acoustic samples include Pipes (clean penny-whistle type tones with a small attack chiff), Flasks (blown bottle tones with a pronounced overblow in the attack) and Rotors (wind-wand "bullroarer" tones with a slow ramp-up attack and pronounced periodic tremolo). These can be played with their characterful attack portions switched in or out; with the attack removed, the sounds lend themselves to more abstract sound design, or you can graft acoustic attacks onto synthetic sustains created with the Sine Bank.

Cloud Chamber excels at creating strange, ethereal tones and textures with the sonic fingerprint of acoustic sources; "unreal" instruments that nevertheless sound like they should be real; and complex, varying, evolving soundscapes that conjure up steampunk-style futures, windy mountain peaks, industrial piston chambers, sussurating cave mouths, and a thousand other uniquely characterful locations. Whether you want a hissing pad from the Victorian steam age for an electronic track or a convincing Troll flute hewn from a solid tree-trunk for your fantasy soundtrack, Cloud Chamber can dial it up for you :D

It includes our Glitch control which randomises the controls in a musically intelligent manner for instant inspiration, several effects tailored to the wind-based tonality of the instrument, and a factory patch library of 30 starting points for your sonic adventures.
Cloud Chamber is available for purchase for the introductory price of £13.45 GBP (regular £14.95 GBP). Requires Kontakt version 4.2.3 or later, full version.
More information: Rhythmic Robot