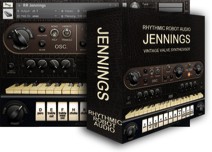 Rhythmic Robot has announced the release of Jennings, a synthesizer instrument library for Native Instruments Kontakt.
We promised you our best synth ever. Well, here it is, guys: all the way from 1946, give a big warm hug to JENNINGS.

It's a recreation of the Jennings Univox, an astonishingly cool dawn-of-an-era synth that got used by the Fab Four and wormed its way into the consciousness of a generation when it did that lead line on Telstar.

It sounds absolutely amazing, and we've expanded and enhanced it so that it goes waaaay beyond its roots. It's been being soldered together on the lab bench for months, but finally, finally, it's done. Now it can be yours!
Jennings features
24-bit, 20-second samples of a professionally-restored Jennings Univox.
All-valve waveforms.
Convolved IR maps and multiple sample sets combine to recreate all front-panel tabs.
One or two oscillators, with detune and Osc Spread control for stereo width.
Multi-mode resonant filter switchable between 2-pole (12dB/octave) and 4-pole (24dB/octave), high or low pass.
Filter and Amplitude envelopes; Amplitude envelope with specific attack-curve control (for "sucky" or "snappy" attacks).
Filter LFO and switchable Amplitude (tremolo) / Pitch (vibrato) LFO, with adjustable ramp time.
Full effects section with Chorus, Phaser, Delay, Rotary Speaker and Amp Cab simulator.
Stereo Widening in combination with Osc Spread maps keys across the stereo sound field.
"Compliance Mode" makes creating authentic 1946-style patches simple.
Requires Kontakt version 4.2.3 or later (including Kontakt 5). Not compatible with Kontakt player.
The sample library is available to purchase for £59.95 GBP.
More information: Rhythmic Robot / Jennings