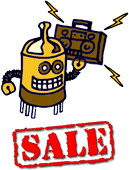 Rhythmic Robot has announced its Sizzling Summer Sound Sale, offering its sound libraries at a discount for a limited time.
Yup, it's sale time Very Happy Get your good selves over to www.rhythmicrobot.com and follow the links for Summer Sale to get deals like…

Drum machines were £5.95 now £4.95
Keyboards and things were £8.95 now £6.95
Mongo's stuff like Snaps'n'Claps and Typewriter were £2.50 now £1.50
Loopscape down from £34.95 to £29.95
Tubes & Wires down from £19.95 to £17.50

…and, well, you get the idea. Things are cheaper, mostly. Don't think we put anything up, at least.
The sale ends August 31st, 2012.
More information: Rhythmic Robot