Rhythmic Robot has announced the release of Crank, a hybrid synthesiser instrument for Kontakt, featuring acoustic and electronic sources in a 4-oscillator architecture.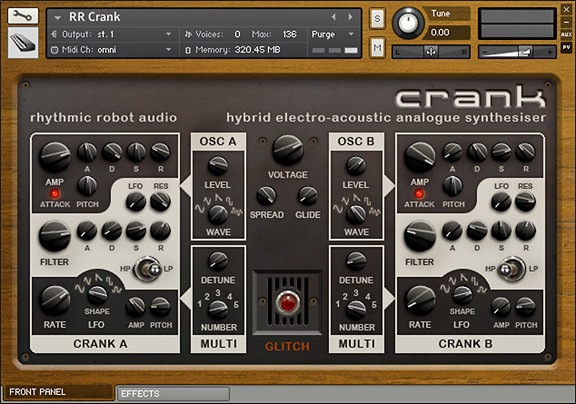 Crank takes over six hundred samples of an Eastern European stringed hurdy-gurdy – and places them at the heart of a four-oscillator analogue synthesiser framework ideally suited to the creation of strange, eerie, evolving patches.

The acoustic hurdy-gurdy produces its sounds by rubbing a rosined wooden wheel over a series of violin-style strings: the sound is half violin, half hand-cranked barrel organ and can be both plaintive and raw-sounding. Rhythmic Robot has sampled a hurdy-gurdy extensively to create the basic tones for Crank, and named the instrument after the handle that the player cranks round to make the hurdy-gurdy play.

The twin Crank oscillators are independently controllable, with dual filters, envelopes, pitch control, LFOs and so on; they also run in tandem with twin Analogue Oscillators, adding some classic analogue waves to the tonal palette. The characteristic attack "squeal" of the acoustic hurdy-gurdy can be turned on or off individually, and the sound sources mixed and blended to create haunting and evocative instruments that sound "almost real."
Crank features
Unique blend of characterful acoustic and analogue electronic waveforms.
Constant erratic instability to add colour and organic warmth to the sound.
Multi-Osc adds up to ten detunable oscillators.
Two different noise types – white analogue and vinyl crackle.
Dual filters with different filter types and LFO control.
Factory library of over 60 patches.
The library is available for purchase for the introductory price of £19.95 GBP (regular £24.95 GBP). Requires Kontakt v.4.2.3 or later, full version.
More information: Rhythmic Robot