Rhythmic Robot has announced the release of Emulator II OMI Universe of Sounds: Vol 1, an instrument library for Native Instruments Kontakt featuring classic sampled sounds that defined a generation.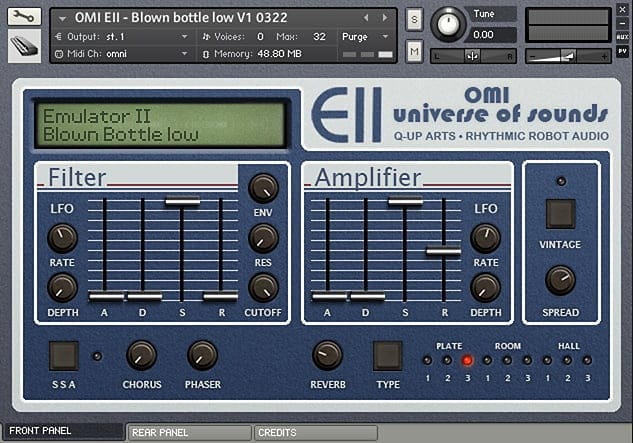 Back in the 80s, the sampler that took the studio world by storm was the Emulator II. Far more affordable than a Synclavier or a Fairlight, its crunchy 8-bit samples and clever companding output convertors made for an awesomely in-your-face sound that punched its way through countless hit mixes. Artists like Pink Floyd, Peter Gabriel, Tears for Fears, Thomas Dolby, Philip Glass, Eurythmics, Pet Shop Boys, Vangelis and dozens more put the EII's signature sound to work on their tracks. It's not overstating it to say it helped define the sound of a generation of music.

'I'm a fan of this Rhythmic Robot outfit. Using their instruments is like discovering a lost tribe in the digital jungle… pure, but slightly uncivilized.' – Stephen Hague, producer (Peter Gabriel, Erasure, Pet Shop Boys, Robbie Williams, Melanie C, New Order, etc.)

Key to the EII's success was a phenomenal aftermarket library of professionally-recorded samples. The factory library itself was excellent, but the soundset that really expanded the possibilities of the instrument was OMI's Universe of Sounds – a mammoth swathe of patches covering keys, basses, strings, orchestral, synths, ethnic, drums, percussion, brass… everything you needed to bring your track to life. When we first approached the idea of sampling an EII, it was this library we wanted to sample.

Now, in collaboration with and with the blessing of Doug Morton – the guy who actually recorded those OMI samples back in the 80s, and who remains their copyright owner – we bring you the OMI Universe of Sounds, in all its glory. We've sampled every note of every patch (over 31,700 samples in all!) out of a reconditioned Emulator II, to preserve the exact sound of the EII's D-to-A convertors and sample interpolation process. We've meticulously preserved original looping behaviour, velocity layers and sample switching. In short, what you hear when you play this instrument is the sound of an EII in its heyday.
Emulator II OMI Universe of Sounds: Vol 1 features
31,700 individual samples.
33Gb original 24-bit.
21Gb uncompressed 16-bit.
11.33Gb compressed .ncw format.
541 individual instruments, including 14 Bass, 18 Bells & Chimes, 52 Brass, 51 Drums, 59 Ethnic & Folk, 8 FX, 36 Guitar, 38 Piano & Keys, 77 Orchestral, 41 Percussion, 61 Strings, 76 Synth, 12 Vocal.
Additional Kontakt Multis taking the EII's sounds in exciting new directions.
The sample library is available for purchase for the introductory price of £85 GBP + VAT through July 31st, 2015 (regular £99 GBP).
More information: Rhythmic Robot / Emulator II OMI Universe of Sounds: Vol 1