Rhythmic Robot has announced the release of Jennings Mk2, a synthesizer instrument library for Native Instruments Kontakt.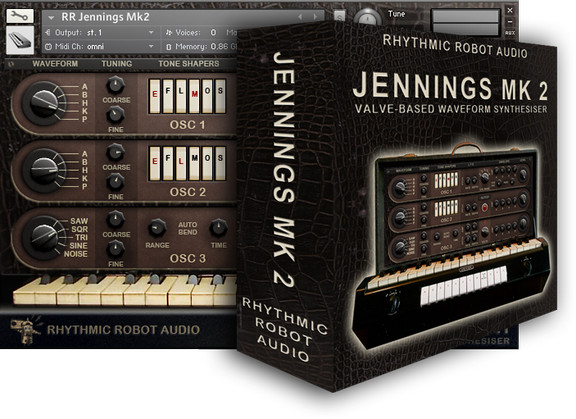 Jennings Mk 2 is a "timewarp" instrument, taking 1950s valve synthesiser technology as found on the Jennings Univox and reimagining it as a fully-fledged analogue polysynth in the style of Roland's early 80s offerings.

Instead of a faithful recreation of the 50s original, this is a complete reinvention, taking the evocative, haunting valve sound of the hardware machine and harnessing it to a synth architecture massively more capable than the original. Complex, evolving, organic sounds just flood out of this thing – it's a sound-designer or synth fanatic's powerhouse.
Jennings Mk2 features
Four oscillators (two main valve oscs with shapeable waveforms; one retro-fitted analogue main osc with classic analogue waveforms; one valve sub-osc).
Four multimode filters (one per main oscillator plus one multimode switchable 2/4 pole global filter with resonance and envelope).
Multiple LFOs with selectable shape, including a smoothed random.
Dual Jennings wave-shaper tab bars running in parallel on oscs 1 and 2, to craft the sound.
Auto-Bend.
Controllable percussive key-click.
And loads more – effects, envelopes, mixer, our Glitch button for generating musically-sensible random patches…
The library is available for purchase for the introductory price of £24.95 GBP for a limited time (regular £29.95 GBP). Requires full version of Kontakt 4.2.3 or later.
More information: Rhythmic Robot / Jennings Mk2