Rhythmic Robot has announced Lorenzo, a vintage reed organ instrument for Native Instruments Kontakt.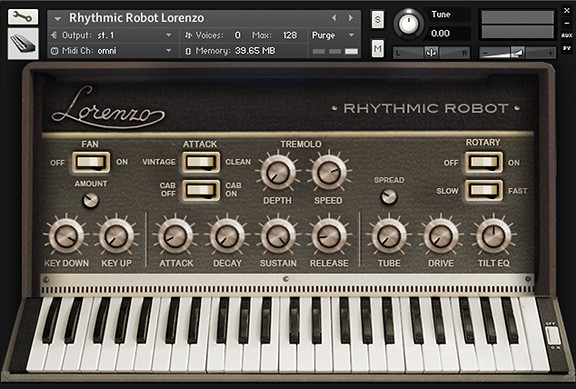 We have a bit of a soft spot for reed organs. They can add an instant blanket of breathing, organic warmth to a track. Their tuning's never perfectly stable. The reeds are never quite in sync. The fan noise adds a dash of high-frequency texture to each note. Overall, we can't get enough of them.

The Lorenzo is a compact four-octave reed organ. No chord accompaniment buttons; no tone controls; just keys and reeds and a fan breathing air over them. So it only does one thing, but the sound it makes it just fantastic.
Lorenzo features
Rich, vintage reed organ tone.
Individual control over key on and key off samples, randomised for authenticity.
Vintage attack captures the original characteristic sound of the reeds; Clean attack gives a snappier, modern sound.
Tremolo, rotary and two types of distortion.
Tilt EQ to tailor the tone.
Separately adjustable fan noise.
Lorenzo for Kontakt is available for the introductory price of £4.95 GBP (regular £5.95 GBP).
Rhythmic Robot has also recently released its Busker percussion library.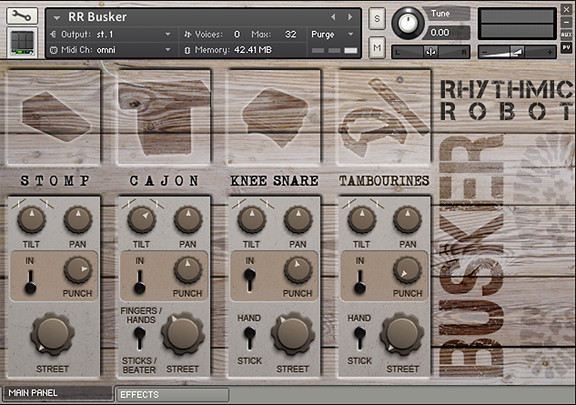 Busker takes its inspiration from those blond-dreadlocked chaps on street corners, and aims to put the smell of old sweat and weed into your DAW courtesy of some street-vibe percussion: cajon, knee-snare, foot stomp, and two kinds of tambourines.

Tambourines in particular always sound kind of anodyne in the big sample libraries; these are warts-and-all wonders of realism, with shakes, rolls, hits and many many randomised round-robins to add natural variation.
Busker features
Everything you need to add some hippie street vibe to your tracks.
Foot stomp, Cajon, portable wire Knee Snare, and two kinds of Tambourine.
Multiple round-robins and velocity layers for organic variation.
Hit things with hands or sticks and beaters.
"Street" knob adds instant trashy grunge for a more sweat-stained feel.
Busker for Kontakt is available for the introductory price of £5.95 GBP (regular £9.95 GBP).
More information: Rhythmic Robot