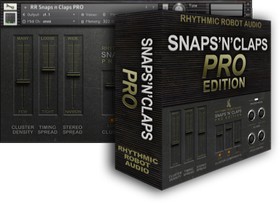 Rhythmic Robot has launched its Snaps 'n' Claps PRO sample library for Native Instruments Kontakt.
Since we started Rhythmic Robot, Snaps 'n' Claps has become one of our best-loved instruments. It seems that everyone needs some fingersnaps or handclaps every once in a while, and our original Hippie In A Tin™ is just perfect for dialling them up quickly and simply.

But what if you need more control – over the sound of your snaps 'n' claps, or their precise timing in your track? What if you want to tweak them more specifically to the groove you've got in your head? Snaps 'n' Claps PRO is the answer. We've taken the original hippies that fuelled Snaps 'n' Claps, and put them through a rigorous boot-camp workout to instil some discipline and work ethic into those flower-power slackers. Only the strongest have survived. The result is an entirely new instrument, created from the ground up with new samples and a far greater degree of user control.
Snaps 'n' Claps PRO features
Precision control over cluster size, spread, timing and variation.
Filter controls help seat the sounds in your mix.
Specify exactly what components you want in each cluster using the Low, Mid and High sliders.
Tiny memory footprint.
The sample library is available for the introductory price of £8.95 GBP (regular £9.95 GBP).
More information: Rhythmic Robot / Snaps 'n' Claps PRO