Rhythmic Robot has announced Synth Wars, a free card trading game.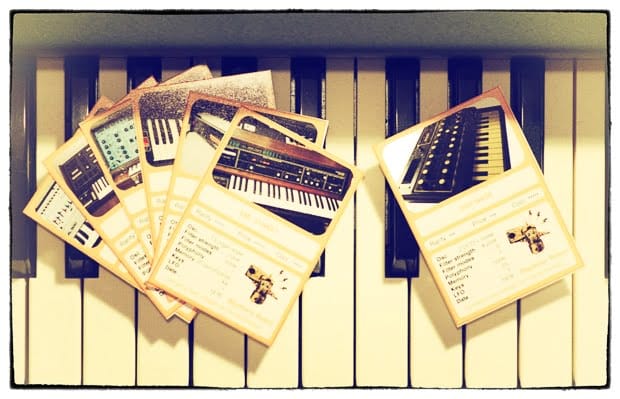 You know this is what you've been waiting for – the missing piece that will complete the jigsaw puzzle of your life. That's right, at last there's a Top Trumps-style synth-based trading card game! Trade your way to triumph as your 4-pole multimode filter beats your mate's puny 2-pole lowpass. Gauge exactly when to play your monster polyphony versus a crappy monosynth. Then put the smackdown on your opponent with 25 punchcards-worth of programmable memory.

Synth Wars takes a wide swathe of droolworthy classic hardware and turns it into something you can take to the pub and muck about with. Comes in the form of nine pdf sheets for you to print out and cut up at home, plus full instructions on how to play (in case you somehow skipped being nine years old). Great for whiling away the time in the control room while the drummer is trying to nail that tricky 4/4 backbeat. To get your free copy, just click below to download everything you need.
Synth Wars is a free download.
More information: Rhythmic Robot / Synth Wars