Rigid Audio has released version 0.98 of its Kontakt GUI Maker for Windows and Mac.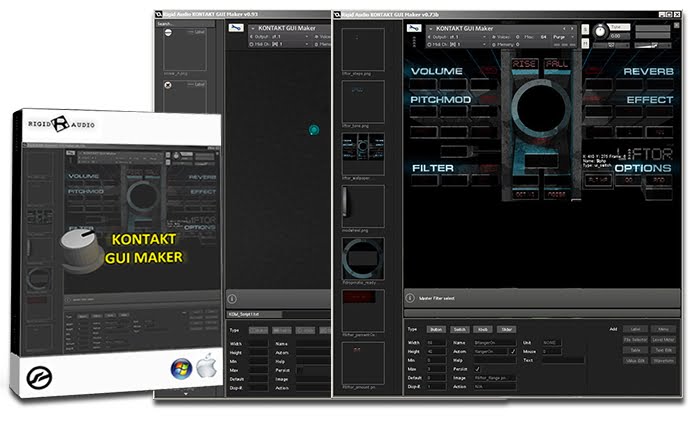 KONTAKT GUI Maker lets you design interfaces for your KONTAKT instruments with a breeze. You only have to drag and drop pictures onto the working area, and "KGM" will generate a KONTAKT-ready script file within seconds.
Changes in Kontakt GUI Maker v0.98
Added: main script: Added multisample mode option.(See project/resources/scripts/KGM_Script1.txt).
Fixed: item renaming bugs.
Fixed: min value now handling negative values.
Fixed: def value now handling negative values.
Fixed: max value now handling negative values.
Fixed: text value "…." (dot problem).
Fixed: menu generation: "Gradient: no" was still generating a gradient.
Fixed: menu library items not displaying filename.
Changed: library: image files with less than 7 frames will preview in a slow tempo.
Changed: custom PNG images for knobs not showing up: Kontakt doesn't allow custom graphics for knobs.
Added: 100+ action script files.
Added: Kontakt 4.2.4 template instrument.
Kontakt GUI Maker is available for the pre-order price of $49.99 USD (regular $99.99 USD).
More information: Rigid Audio