Riot Audio has announced availability of its new ambient guitar pad instrument for Native Instruments Kontakt.
The Baritone Guitar Washes is based on recordings of a baritone electric guitar with an aluminium neck custom made by NUDE Guitars in collaboration with legendary dark ambient artist Eraldo Bernocchi.
The instrument covers icy, thin trails, warm, sparkly harmony pads, edgy, scratchy atonal textures as well as an assortment of plucks with varying degrees of electric guitar realism.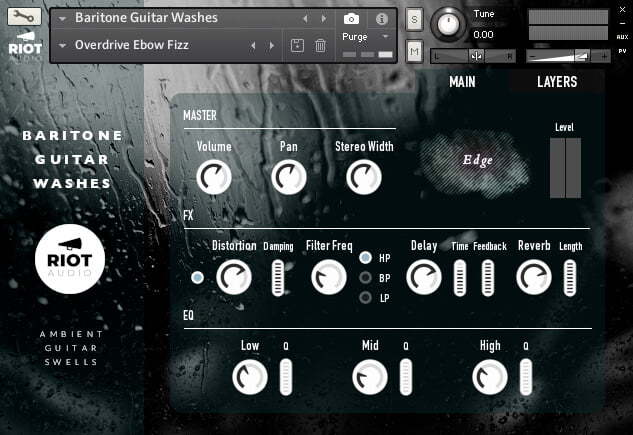 BARITONE GUITAR WASHES is based on Riot Audio's proprietary Kontakt engine (WASHES) that incorporates three layers of sound – Body, Grit and Air, each with a specific function and sound characteristics.

The Body layer contains the core guitar samples, in various pickup positions (Neck, Mid, Bridge) and playing styles (Harmonics, Straight, Ebow). These samples are looped/layered to create "swells" with close to infinite release times. It also includes several instances of "pre-washed" samples, swell sounds that were recorded using custom delay and reverb settings on a Kemper Profiling Amp. Sample start times, attack and release are highly customizable, allowing for anything from short, dry naturalistic pluck sounds as well as organ-like stab sounds (without the initial attack of the guitar pluck) via 10s risers that end abruptly to classic slow-attack and slow-release pad sounds.

The Grit layer serves to add a distorted, dissonant, scratchy or bowed flavour. This can either be dialed in low in the mix for a sprinkling of darkness and texture, or dialed up to be a featured element.

The Air layer contains a few different instances of moving air (a household hoover, air blown across an Irish Low Flute) for some high-frequency/breath-like sizzle. This layer can be added to produce organ-type sounds (think Hammond or Wurlitzer) and hints of choir.
Baritone Guitar Washes features
Three-layer ambient guitar instrument running in Kontakt 5.8 and above (full version only).
Source instrument: Custom NUDE aluminium-neck baritone electric guitar owned by legendary dark ambient artist Eraldo Bernocchi (Sigillum S, Obake, Osso, Harold Budd).
Powerful sound design engine ("WASHES") that allows for detailed sound source, envelope and spectral morphing adjustments for each layer individually.
Uses Kontakt's AET Filter morphing technology.
60 presets (snapshots) in total – 30 pads, 30 plucks.
Baritone Guitar Washes is available for the intro price of £39 GBP until February 19th, 2020 (regular £59 GBP).
More information: Riot Audio