RME has announced the HDSPe AIO Pro, a new 30-channel PCI Express sound card based with reference-class AD/DA conversion derived from the award-winning RME ADI-2 Pro Series.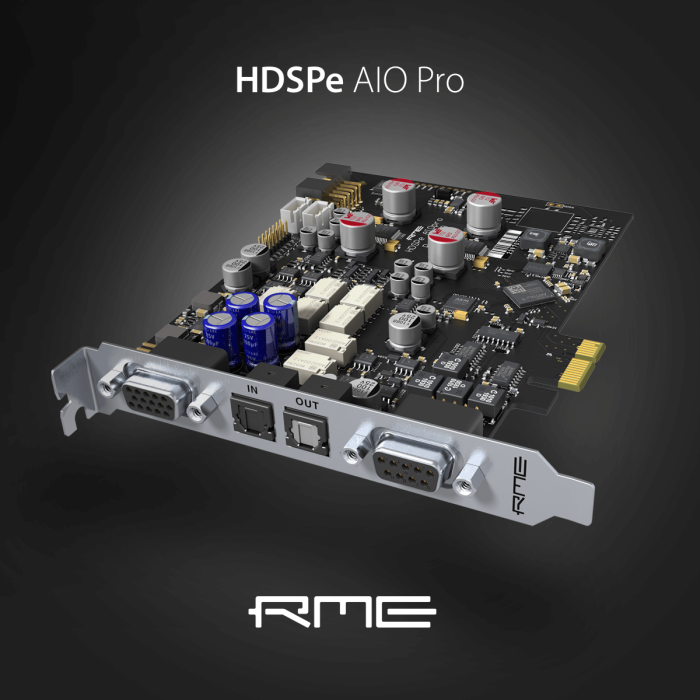 Featuring level conversion, a powerful new headphone amplifier, and SteadyClock FS, the new HDSPe AIO Pro is based on the reference processors AK5572 and AK4490 derived from the high-end AD/DA converter ADI-2 Pro.
The Pro version provides professional users in the fields of studio and broadcast with the same high channel count, as well as analogue/digital input and output variety, of the HDSPe AIO.

In terms of technical features RME has completely reworked the HDSPe AIO Pro, defining the current state-of-the-art in PCI Express cards.

The HDSPe AIO Pro features a total of 30 channels (14 input, 16 output), each with a maximum of 24 bit/192 kHz. This PCI Express audio interface is an all-in-one solution, offering analogue stereo inputs and outputs, an additional headphone output, plus ADAT, SPDIF, AES/EBU and MIDI I/O. Like its predecessor, all in- and outputs can be used simultaneously.
HDSPe AIO Pro features
Balanced* stereo analog in- and output, 24-bit/192kHz.
All analog I/Os capable of 192 kHz, constant number of available channels.
1 ADAT digital I/O, supporting 192 kHz via S/MUX4 operation.
1 SPDIF digital I/O, 192 kHz-capable.
1 AES/EBU digital I/O, 192 kHz-capable.
1 High Power Headphone Output, separate DA-converter and playback device.
1 MIDI I/O with 16 channels of hi-speed MIDI via breakout cable.
DIGICheck, RME's unique metering- and analysing tool.
TotalMix FX: 760 channel Mixer with 42 bit internal resolution.
Native PCI Express – no PCI to PCI Express bridge used.
Outputs with Mute Relais.
+24 dBu I/O Levels.
The RME HDSPe AIO Pro will be available from September 2020.
More information: RME