RME Audio has announced a next-generation update to the RME Fireface UCX audio interface.
Offering full stand-alone operation and an updated front-panel display and controls, the Fireface UCX II 40-channel, 192 kHz advanced USB audio interface features SteadyClock FS, direct USB recording and playback (DURec), and DC-coupled outputs.
Developed in time to celebrate the company's 25th anniversary, the RME Fireface UCX II represents the culmination and refinement of 25 years of digital audio innovation.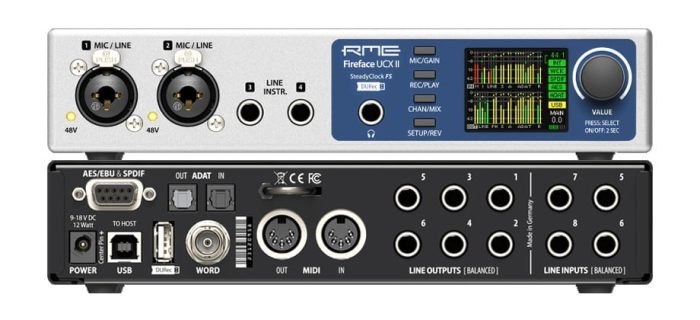 This unique audio system is capable of transferring analog and digital audio data directly to Windows and Mac computers. The latest Plug and Play technology guarantees a simple installation, even for the inexperienced user. Numerous unique features like a well thought-out Settings dialog and an integrated routing solution realize a quick, comfortable and efficient operation of the Fireface UCX II.

The Fireface UCX II houses two mic/line preamps in XLR combo configuration on the front panel, along with two digitally controlled line/instrument inputs, followed by a headphone jack, various control buttons, a display, and the main volume knob. At the rear is a set of ten analogue balanced line inputs and outputs, MIDI I/O, ADAT I/O, AES/EBU and SPDIF I/O, USB 2.0 as well as a switchable word clock I/O.

With the SteadyClock FS, the Fireface UCX II features the latest clock and jitter rejection technology from RME. Based on a femtosecond clock, SteadyClock FS reduces the intrinsic jitter when converting from and to analogue over all digital formats to a new all-time low.
The RME Fireface UCX II is shipping in July 2021, with an RRP of £1,149 GBP.