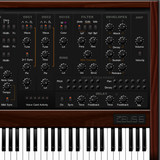 RNL Music has announced Zeus 6, a virtual polyphonic analog synthesizer instrument for Windows.
The first 3 synthesizers from RNL MUSIC are simple subtractive synthesizers but they are built with the musician in mind. They have to be organic and they have to have a distinctive character. These are only a introductory line of synths. It is going to be much more fun soon. Stay tuned.
Zeus 6 features
6 voice polyphonic (6 separate voice cards) with true mono unison function.
2 x VCOs, with hard sync.
1x 24db, 12 db LPF, 12db Hpf, 6 db Bpf filter with balanced resonance control.
2 Envelope generators with sharp attack.
Extensive modulation routing.
Adjustable tuning, panning, filter freq, and decay time per voice.
Ring modulator.
White, Pink Noise.
1 tempo synced LFO with five waveforms.
1 sample and hold module with selectable source from noise, triangle or saw waveforms.
Arpeggiator with controls for accurate sync to DAWs.
Syncable stereo Delay module.
Full Midi Automation with learn function.
A demo version of Zeus 6 is now available to download as a VST instrument plug-in for Windows. The full version is TBA.
More information: RNL Music