Roazhon DSP has released version 0.87 beta of its BrainStormer virtual analog synthesizer instrument for Windows.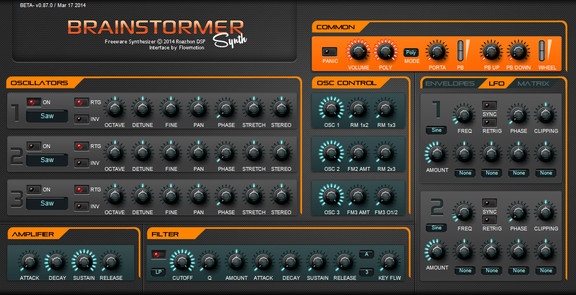 Changes in BrainStormer v0.87 beta
Added 8 new waveforms (4 Steps, 33 Square, Asym Square, Trapezoid, SmoothSaw1, SmoothSaw2, Rectified, Half Rectified).
Added matrix as modulable (now 84 destinations for modulators).
Changed filter ENV amount to bipolar.
Fixed slow GUI drawing and CPU spikes when knobs are moving or automated.
Fixed noise/glitch at the start.
Added double click on knob to set default value.
Added mouse wheel control on knobs for fine tuning.
Set linear knob mode by default (host mode can still overwrite it).
Changed linear mode knob sensitivity to have a finer scale.
Changed precise linear mode knob sensitivity to have a finer scale (SHIFT + left click).
Added instant circular relative knob mode (ALT + left click).
Fixed OSC fine tune displayed value.
Reordered filter GUI section in a logical way.
Fixed dll loading issue on some old hosts (main entry point missing).
Patches from v0.86 versions remain compatible.
BrainStormer is available to download as a freeware VST instrument plug-in for Windows.
More information: Roazhon DSP