Rob Papen has announced the release of Punch 2, an update to the cutting edge drum machine instrument.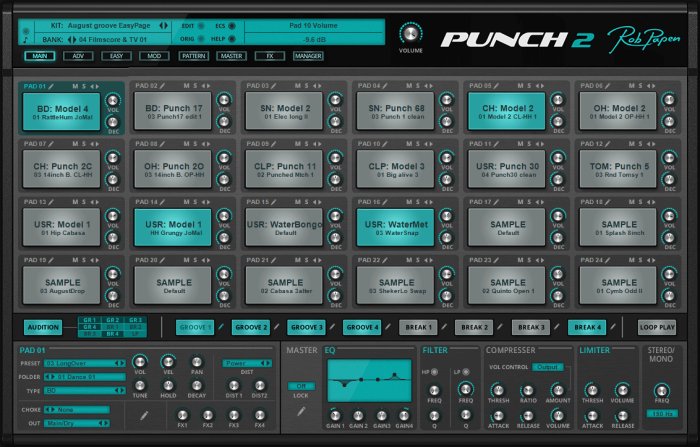 Punch 2 adds more drum synthesis models and introduces a fresh, re-designed new main screen which allows you to quickly form unique new drum kits.
It doesn't stop there though; the interface and the synthesis sound options have been expanded greatly. Rob Papen Punch 2 now allows you to import your own samples and REX files so you can create your own loops using whatever samples you'd like. You can map out REX files or sample slices to individual pads and combine these creatively with the sounds & pattern sequencer found inside Punch 2 for ultimate usability. Further editing of REX files or Sliced pads is also possible by using one of the many additional features such as filters, envelopes or routing into one of the 4 FX modules. And yes, you can even use granular synthesis on the REX and Slice pads!

Feature-wise there is almost too much to mention here! For instance, there is a full new 'Master' section with EQ, Compressor, Limiter, Stereo/mono split filter, and layout mixer. Last but not least, Punch 2 also comes with a vast amount of included sounds, ready to groove into your music and productions!
Punch 2 is on sale for the intro price of 119 USD/EUR until December 3rd, 2019 (regular 149 USD/EUR).
The XY-Transfer multi-effect plugin offers a filter bank with 36 different filter types which can be used in combination with 2 other block effects, including a comb filter, shaper, room and gater.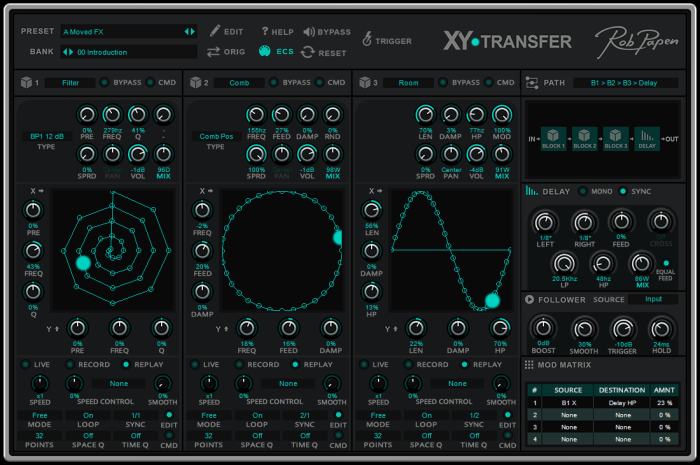 A Stereo Delay can also be placed in different combinations within with the 3 blocks.
Indeed, thinking out of the box is what Rob Papen loves to do and as always, this is the case with XY-Transfer! If you are familiar with any other RP instruments, you will know of the XY pad; it is a very creative effects tool for adding dynamic changes to a sound. XY-Transfer offers a filter bank with 36 different filter types which can be used in combination with 2 other FX, all with their own XY pad which can be recorded and played back in a variety of creative ways! All of this is then polished off with a flexible Stereo Delay.

Well, now you can use the exciting XY pad in combination with a cool range of effects! The unique thing about XY-Transfer is that each 'BLOCK' which holds one of the FX, also has its own XY field. So very complex effect types are possible which can lead to some unheard and creative effects!
XY-Transfer is on sale for 39 USD/EUR until December 3rd (regular 49 USD/EUR).
The plugins come in 64-bit VST, AU and AAX formats. They are also included in the eXplorer 6 bundle, which now includes 25 highly-versatile virtual synthesizers, instruments, and extraordinary effects.
The plugins are available from Rob Papen and distributor Plugin Boutique.