Rob Papen has announced a sale on RG, a guitar instrument plug-in for Windows and Mac.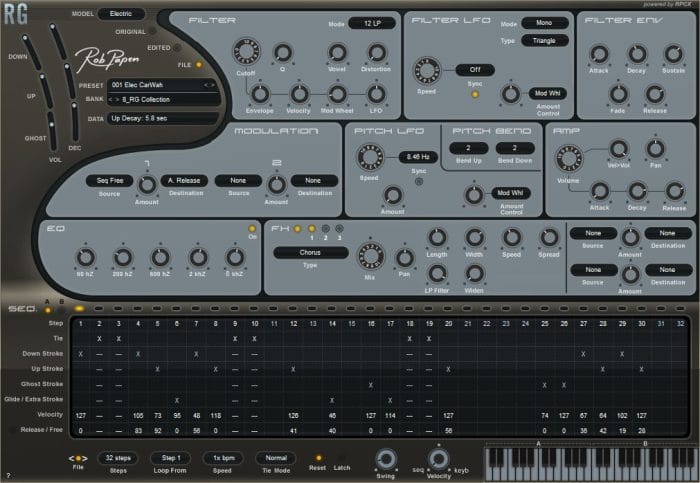 RG is a unique guitar groove plug-in that is far more than just a 'virtual' Rhythm Guitar player!

At first glance this might look like a one-trick pony, but it does what it does — creating classic Rhythm Guitar grooves using the onboard RG sequencer as well as using synthesizer features and effects to make fresh and edgy guitar grooves — beyond belief. Little wonder, then, that it is loved so much by so many producers worldwide!

With sound sets made from clean, sampled guitars, giving great freedom and flexibility when using those synthesizer features and effects, RG guitar types included are:

Classic Fender Stratocaster electric guitar (major and minor7 chords)
8th-note groove-type Steel String acoustic guitar (major and minor chords)
16th-note groove-type Steel String acoustic guitar (major and minor chords)
Power Chord groove-type Distorted guitar (5th chords / absence of 3rd)
Muted Low and Muted High groove-type guitar (single notes / no chords)

The synthesizer parts of RG include a classic analogue-modelled filter, LFO, envelopes, and modulation section. The effects section can be built by using up to three effects at a time from the included MIDI time-based delays, chorus and also speaker simulators, phaser, flanger, and much more besides. Help is always at hand, though; there are over 1,000 presets included with RG, including 850 RG grooves and 300 'basic' grooves.
RG for Windows and Mac (VST/AU/AAX) is available for $75 USD / 69 EUR until September 30th, 2015 (regular $119 USD / 99 EUR).