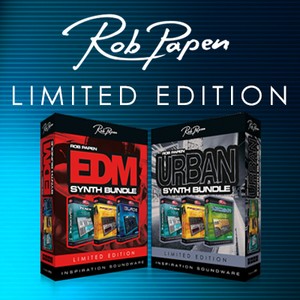 Rob Papen has announced that the limited-edition EDM and Urban bundles have been extended to the end of July, 2013.
These two special bundle packs were created with Urban and Electronic Dance Music producers in mind.

The EDM Synth Bundle and the Urban Synth Bundle each include three Rob Papen synths, saving you around 45% off the combined price, but don't wait around as there are only limited amounts available worldwide.
Limited-edition bundles
The EDM Synth Bundle SRP: €199 / $239 / £169
Comprising Rob Papen's Predator virtual synth, Punch drum machine, and Blade virtual additive synthesizer plug-ins, the EDM Synth Bundle is a highly-flexible electronic monster, offering masses of diverse sounds
for electronic dance producers.
The Urban Synth Bundle SRP: €199 / $239 / £169
Ideal for producers of Dubstep, Drum 'n' Bass, Garage, and Grime, the Rob Papen Urban Synth Bundle includes the SubBoomBass ultra deep bass synth, Punch drum machine, and Predator virtual synth plug-ins, and will also seamlessly fit into Hip Hop, Rap and R&B music creation workflows.
The offer expires July 31st, 2013. Users that already own one or more Rob Papen products can contact Rob Papen or an authorised dealer for upgrade information.
More information: Rob Papen