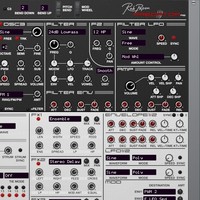 Rob Papen has updated the Predator-RE synthesizer instrument for Propellerhead Reason to version 1.0.2.
Predator-RE is a killer synthesizer that combines inspiring preset's and first-class features to make this your 'go-to' synthesizer for contemporary music production. The user interface has been designed so that all controls are visible on screen, making it fun and incredibly easy-to-use.
Changes in Predator-RE v1.0.2
Non aliasing oscillators.
4x oversampling default setting.
New patches inside: Predator dance 04/Classic Synth 04/DubStep 02/TONAL AXiS/TheCyberDemon (new artist patches).
Standard Reason Note Input (Gate & CV) , so you can properly trigger Reason from other devices now.
All controls latchable now.
Arp Note Output works correctly now.
Mod / After controls works.
FX CPU spike fixed.
Removed click on changing presets.
Arp Latch doesn't stop arp when you turning it on.
Fixed Arp start click.
Fixed problem with Filter LFO Poly / Mono having slightly different speed.
Fixed problem with pitch-bend semitone range being doubled.
Added numbers to the arp screen.
Manual updated.
Predator-RE for Reason 6.5 and Essentials 1.5 is available to purchase for 99 EUR.
More information: Rob Papen / Predator-RE