Rob Papen has released RP-Amod, a dual modulation effect that is available free of charge to all Rob Papen customers.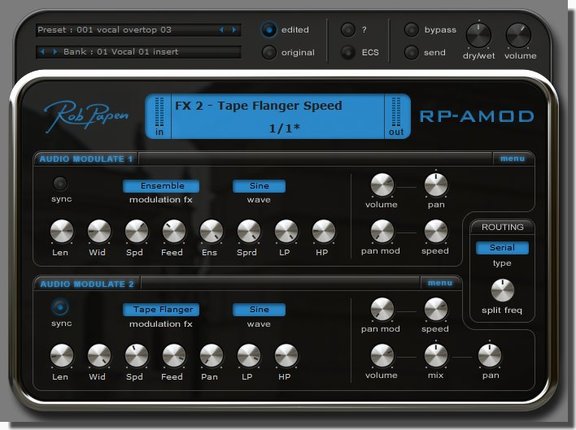 As you will probably know, a modulator is a term that is used in synthesizers. They are various types of settings that can change and alter a sound. With RP-AMOD you can use it's modulators to alter your audio in different ways.

We have added 'Phaser', 'Flanger', 'Chorus', 'Ensemble' and 'Tremelo', which are classic audio modulation FX. What differs with RP-AMOD from these classic versions, is that you can also 'tempo sync' them to your music, and you can use two FX at the same time in various routing configurations. These routing options are not only in serial and parallel, but you can also 'filter split' the audio signal ahead of going to both of the FX!

RP-AMOD can spice up your vocal track, liven an instrument and even beef up your drums or drum-loops.
RP-Amod features
Presets in various style banks. Preset / Bank menu with Quick Browser, Favorites & Recent etc functions.
Main section with: Bypass, Mix, Volume, Send, Readout display and ECS (External Midi Controller Setup)
Send button is 'global' and should be used in FX send mixer setup.
Routing controls how the 2 modulation units are connected: Parallel, Serial, Filter Split (Using either 6, 12 or 24 db low pass / high pass filters. The filters frequency is set by the split frequency dial).
Audio Modulation 1 & 2 with Sync, Volume Mix control.
Audio Pan and Pan Modulation inside each Audio Modulation module.
FX Types: Chorus, Tape Chorus, Ensemble, Flanger, Tape Flanger, Phaser, Analogue Phaser, Tremelo.
RP-Amod is a free download for registered Rob Papen users.