Rob Papen has updated the released Blade 2 synthesizer, which comes with some additional presets, a number of new features and bug fixes.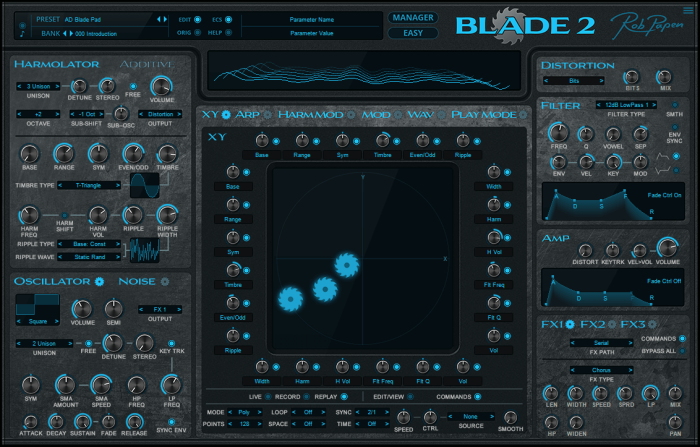 With BLADE-2 we have expanded the features of BLADE even further again making it a dream synthesizer for synth lovers who like to think out of the box and love to experiment!

Next to the Harmolator mode, we have now included an Additive mode which allows you to morph or mix between 4 additive waveforms using the XY pad. Of course, in addition to using these additive waves, you can also create and edit your own!
Another new addition is a dedicated wave-analyze section that allows to analyze of sample data into a waveform, which then again can be used in the Harmolator or Additive section.
Changes in Blade v2.1.0a
New presets: Oddiction bank added (53 new presets), new presets inside 002 Pads 01 (10 new), 003 Synth 01 (7 new), 004 Arp & Sequence 01 (10 new).
MPE Beta mode (inside the PlayMode).
Arp Velocity added with key entry.
Improved arp key entry so it skips over off/tied notes.
Harmolator control displays easy amounts now.
Modulation by Mod Velocity etc now shows.
OSC/Noise graphic output if Harmolator/Additive is off.
When you start XY recording, the XY position doesn't move.
Fixed problem with some Filters being unbalanced in unison modes.
Improved sample zoom so the selected area is centered.
Fixed a problem where when you turned off OSC/noise the labels weren't bypassed.
Changing screens turned off sample preview.
Mod Arp not running when Arp not used as a mod source.
Fixed problem on Mac where the folder still appears after being deleted.
Fixed problem with a crash in Sonar when pressing the panic reset.
Blade 2 is available from Rob Papen and Plugin Boutique, priced $99 USD / 99 EUR. The update is free to current users of Blade 2 and owners of eXplorer-6.