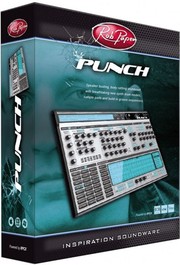 Rob Papen has released version 1.0.1 of Punch, a virtual drum and percussion instrument for Windows and Mac.
Punch punched its way into today's contemporary studios at the end of May!

And now we have Punch 1.0.1 for you with great new presets/grooves and cool new features!
Changes in Punch v1.0.1
Drum preset manager screen, which can found in the bank manager screen, this allows you to quickly put together drum kits, and has the ability to find drum presets and to preview drum preset via right mouse button clicking.
Sample drag & drop into the sample file display, for the 8 sample pads.
Pattern midi export, via the right click menu in the pattern screen / menu in the pattern file screen.
Mouse scrollwheel for knobs, sliders & scroll bars, for those hosts which allows mouse scrollwheel controls.
Big screen mode, which is 40% bigger (selectable at back panel).
Greatly increased pattern playback accuracy, it's now sample accurate.
Allows you to set the channel output in the mixer screen.
Added drum sync range , so you can sync to 1/16 , 1/8 .. notes.
Other small bug fixes.
Compatible with Mac Lion (OS-X 10.7)
New banks & drumpresets.
New cool 3rd party banks by artist Ton Driessens (Ecompositeur bank) and sound designer Matthias Sauer (www.app-sound.com).
Punch is available to purchase for €149 EUR incl. VAT / $179 USD.