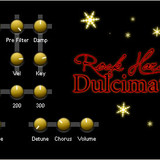 Rock Hardburns has released Dulcimator 2, a free hammered dulcimer emulation for Windows.
It's a delay line type synth that has been specifically structured to emulate the hammered dulcimer, but it does OK with few other simpler string instruments. It's based around a buffer that is seeded with an impulse, and then filtered once every period.
Dulcimator 2 features
Buffer input waveforms RND (noise), SQR and SAW.
Prefilter of buffer, can be mapped to velocity.
Damp for cut off frequency of the playback filter, damping factor can be adjusted based on the note pitch (Key).
3 peak/notch filters: 100Hz, 200Hz and 300Hz, useful for simulating body resonance.
Detune for increasing the distance between two auxiliary playback pointers. This simulates having three strings instead of one, which is important for that sparkly dulcimer sound.
Envelope, chorus and volume controls.
Dulcimator 2 is available to download as a freeware VST instrument for Windows PC.
Visit Rock Hardburns for more information.