RØDE Microphones has announced the RØDECaster Pro Podcast Production Studio, the world's first fully integrated podcast production studio.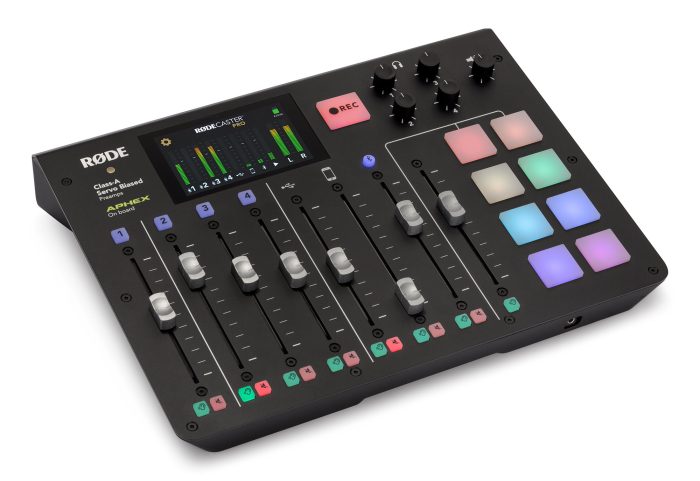 The RØDECaster™ Pro will change the face of the fastest-growing segment in the media industry – podcasting.

Now, everyone with a dream to create professional-quality podcasts will be able to do so seamlessly with this new and powerful platform. This is a remarkable new direction for RØDE: an all-in-one studio for podcasters of every level.

You can be podcasting within minutes of opening the box.
RØDECaster Pro Podcast Production Studio features
4 microphone channels: Class A, servo based inputs able to power studio condenser microphones as well as conventional dynamic microphones.
Separate inputs for:

3.5mm TRRS (phone or device)
Bluetooth (phone or device)
USB (for music/audio or app calls)

Pristine audio quality phone and app calls – with no echo (mix-minus). Easily adjust levels – no extra gear or messy set-up involved.
Programmable sound effects pads: 8 colour coded sound effects triggers for programmable jingles and sound effects.
Programmable in the RØDECaster™ Pro or from your computer via the software.
APHEX® Exciter™ and Big Bottom™patented processing for that rich, warm tone only found in professional broadcast systems. Also includes multistage dynamics: compression, limiting and noise-gating.
A full colour, high-resolution touch-screen allows easy control of all settings, including EQ presets for a range of professional voicings.
Four high-power headphone outputs and stereo speaker out, each with independent volume controls.
Records direct to microSD Cardfor completely self-contained operation, or to your preferred computer and software via USB.
Live streaming capability.
The RØDECaster Pro Podcast Production Studio will be available for sale in December 2018.
More information: RØDE