Roger Linn Design has released version 2.0 (beta) of AdrenaLinn Sync, a software plug-in that provides the same unique beat-synced filter modulation and sequencing effects of the AdrenaLinn III guitar pedal, plus quite a bit more.
Though intended for guitar, it adds fascinating tonal effects to any instrument or processed audio. First released in October of 2009, we listened to your feedback and are now releasing AdrenaLinn Sync Version 2, a dramatic improvement over the original. And it's free to all purchasers of the original version.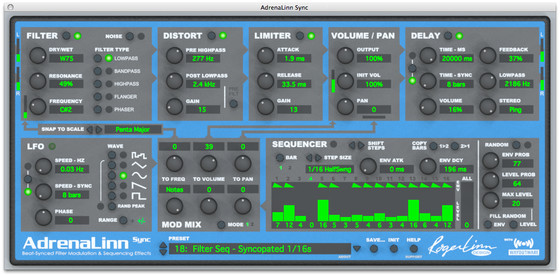 Changes in AdrenaLinn Sync v2
Warm, punchy and faithful emulations of analog lowpass, bandpass and hipass filters, as well as superb analog phasor and flanger emulations. The flanger is excellent at tuned resonances and the phasor can provide beautiful clangorous tones when highly resonant, for presets like Toy Piano and Steel Drum Ensemble.
3D rendered user interface, mimics the controls and textures of the AdrenaLinn III pedal. Highly functional control layout clearly shows audio and modulation paths.
100 new presets, optimized for the new V2 filters, and now able to be selected or saved from the plug-in's panel. 28 empty preset slots are also included for saving your own presets.
Stereo Beat-Synced Delay up to 32 Seconds / 8 Bars — Play 8 bars of accompaniment, then listen to it while playing 8 bars of solo, then listen to that solo while adding another 8 bars of chords, and so on. With Feedback at full, it loops indefinitely.
Limiter improved for faster attack and greater transparency — Levels out resonant filter peaks and also adds sustain, providing longer chords and notes for the rhythmic effects to chop and slice.
Unlike the original version, version 2 no longer uses Cycling 74's Pluggo technology. This means that unlike the original AdrenaLinn Sync release, version 2 works fine in Cubase and also in Live 8 when Max For Live is installed.
AdrenaLinn Sync is available to purchase for PC and Mac (VST/AU, RTAS coming), priced at $99 USD. Version 2 is available to download as a 21-day beta/demo version, final release scheduled for early June.
More information: Roger Linn Design