Roland has announced the ATELIER Combo AT-350C, a travel-friendly combo organ that features a wide variety of sounds to fit a broad range of musical styles, and is designed for easy transport.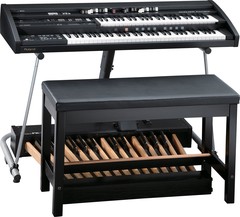 Outfitted with a wide range of authentic organ sounds with Virtual Tone Wheel technology for rock, pop, and jazz, and also high-resolution voices powered by Roland's acclaimed SuperNATURAL® technology, the ATELIER Combo is ready for any live performance.

The ATELIER Combo sports a traditional double manual configuration, with 49 keys on the upper, and 64 keys on the lower. Optional 20-note or 25-note pedalboards are available for those that choose to kick live bass. An optional keyboard stand KS-G8 is suitable for the ATELIER Combo. With its intuitive design, the ATELIER Combo can be broken down into three separate pieces, making it easily transportable to various performance venues.
ATELIER Combo AT-350C features
Stylish design, easy to transport.
Realtime performance features in a travel-friendly instrument that's made for the stage.
Double-manual keyboard configuration: 49-key upper, 64-key lower.
Full harmonic bars for Upper, Lower, Solo, and Bass.
Higher-resolution voices powered by Roland's acclaimed SuperNATURAL technology.
D Beam provides unique sound control.
Optional accessories: KS-G8/KS-12 keyboard stands, PK-7A 20-key pedalboard, PK-25A 25-key pedalboard.
More information: Roland / ATELIER Combo AT-350C