Roland has announced its latest Boutique series instrument, the D-05 Linear Synthesizer. This compact reproduction of Roland's late 80s original groundbreaking digital D-50 Linear Synthesizer combines the newly developed Digital Circuit Behavior (DCB) sound generator with the actual samples used in the original instrument.
The new D-05 comes with the authentic sounds from the D-50, as well as all the modern conveniences of the compact and affordable Roland Boutique module format.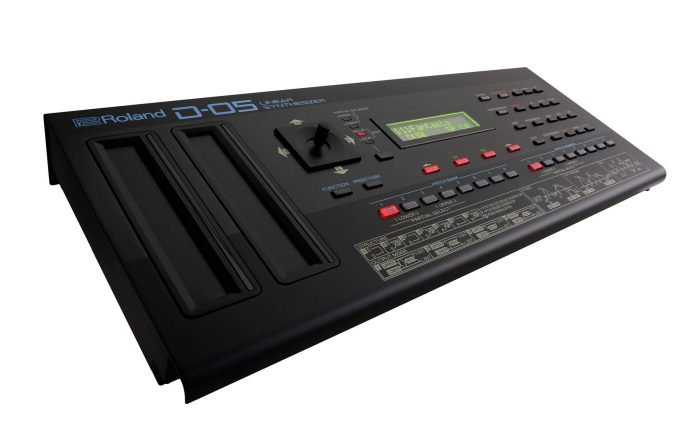 Released in 1987, the D-50 was Roland's very first all-digital synthesizer. Powered by the revolutionary Linear Arithmetic (LA) Synthesis engine, the instrument's unique mix of sampled attacks and synthesized sustaining waveforms – plus built-in chorus, reverb/delay, and EQ for studio-quality polish – made it a must-have synth for musicians around the world. The D-50's bold new sounds and beautifully crafted presets inspired artists everywhere and quite literally dominated the popular music, film soundtracks, and commercial jingles of the era. To celebrate the 30th anniversary of this giant in the history of synthesis, Roland presents an inspiring recreation that brings the genuine D-50 experience to the music creators of today and beyond.

At the D-05's core lies the first synthesizer with Roland's DCB technology. Paired with the exact PCM attack and loop samples that were so vital to the D-50 sound, the D-05 precisely recreates every tonal nuance in stunning detail. The user interface is totally authentic as well, with the familiar D-50 panel layout and many direct-access controls. Even the all-important D-50 joystick is included, allowing users to smoothly morph between different mixes of Upper and Lower Tones in real time.

The D-05 also includes many modern enhancements not available with the original D-50. The 64-step polyphonic sequencer is ideal for performance and music creation and offers the ability to sequence shuffle and gate timing along with tempo and patch changes. There's also a built-in arpeggiator for adding movement to the D-05's already evocative LA Synthesis sounds.

Like all Roland Boutique modules, the D-05 is extremely portable, runs on USB bus power or batteries, and functions as a USB audio/MIDI interface for performing and producing with a computer. It also includes a built-in speaker for monitoring the sound in mobile situations. When mounted in the optional K-25m Keyboard Unit, the D-05 can be used as a compact, all-in-one synth with 25 velocity-sensitive keys.
D-05 Linear Synthesizer features
Perfect sonic recreation of the D-50 from the makers of the original.
Digital Circuit Behavior (DCB) faithfully captures every detail.
Authentic user interface including joystick control.
All the original presets plus fresh new sounds.
Compatible with original D-50 patches.
64-step, polyphonic onboard sequencer and arpeggiator.
Rugged construction with metal front panel.
Highly portable for mobile music making.
Battery operated (4 x AA) or USB powered.
Built-in powered mini-speaker for instant enjoyment.
Compatible with optional Roland Boutique accessories.
The Roland D-05 is expected to have a street price of US $349 USD.
Roland has also announced the worldwide release of its Roland Cloud service, the cloud-based suite of high-resolution musical instruments, connected services and software for modern music creators and producers.
The new D-50 Linear Synthesizer virtual instrument is now available from Roland Cloud.
Roland Cloud embodies Roland's pioneering spirit and brings it into the cloud by offering a suite of solutions that serve to alleviate many pain-points suffered by today's music creators. The Roland Cloud service offers musicians virtual instruments ranging from fully-functioning software plug-in versions of legendary Roland synthesizers to the genre-inspired FLAVR series to the organic and beautiful TERA Acoustic series to the easy-to-use and historical Anthology series. The future promises more additions to these series as well as new series and instruments.

Roland Cloud Manager, the management software for Roland Cloud, is a powerful tool for musicians that runs conveniently and quietly in their system tray or system menu, downloading instruments and updates in the background, equating to more time creating music and less time managing instruments.

Unlike standard online-hosted collections of virtual instruments, Roland Cloud also provides a unique take on cloud-based services. Roland Virtual Sonics co-founder and award-winning composer Jeremy Soule recently commented, "We took a very collaborative approach during our early-access beta. We engaged in deep conversations with many members of our creative community and tailored our instrument lineup and features as a response to their needs. We're going to keep communicating and stay on top of the ever-changing landscape that is music creation."

"Some things never change, though," Soule continued. "People have always and will always want affordability, simplicity, and quality. Roland Cloud is built from the ground up with these in mind."
The Roland Cloud service is available at $19.95 USD/month. New users can sign up for a free 30-day trial.
More information: Roland