Roland has announced the GO:LIVECAST live streaming studio for smartphones, allowing streamers to enhance and manage live content on online platforms while remaining engaged with their audience.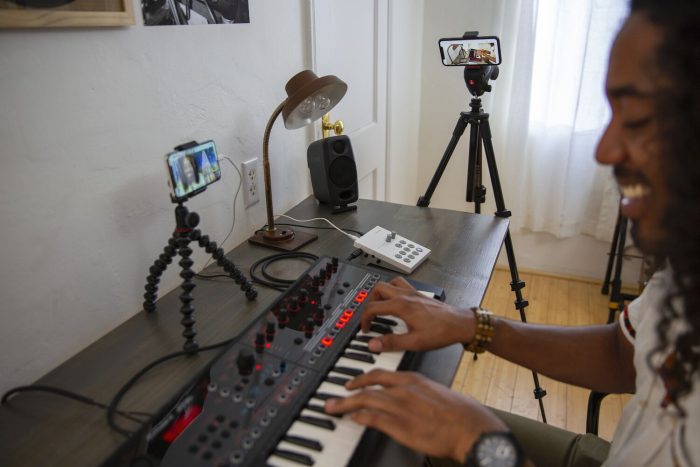 Although it's easy to stream live content with your smartphone, but making your broadcasts look professional takes more effort. That's why you need GO:LIVECAST, the simple and affordable way to bring superior production values to your webcasting.

This hardware/app combo is a fully featured streaming studio that lets you mix sound, display titles, play media, trigger sound effects, and more—without needing a computer or costly dedicated A/V gear. With just the GO:LIVECAST hardware, companion app, and your smartphone, you have all the tools you need to present engaging live web shows that will rival the most advanced creators on social media.
GO:LIVECAST functions like an instantly-accessible, mini broadcast studio to make online live video production for programs from music, to beauty, to cooking, easier, more accessible, and more fun for everyone. Roland continues its mission to provide innovative tools for modern creative outlets and uses, like livestreaming, so inspiration can take shape in the form of music or media.
The Roland GO:LIVECAST is quick and easy to use with plug-and-play setup. Simply connect a smartphone and headphones for sound monitoring and start streaming. GO:LIVECAST improves average built-in microphone smartphone audio by giving content creators the ability to connect to other sound sources—from microphones to electronic instruments. Effortlessly insert pre-recorded audio and video clips into livestreams with the push of a button via six customizable controls. Quickly adjust the volume of your microphone or media clip through knobs and mute buttons to keep audio at a comfortable level and omit unwanted sounds.
Through the companion app, users can access a variety of video features. Even content-creators without production experience can introduce new and exciting elements to their broadcasts to elevate content. The GO:LIVECAST app allows streamers to log-in and connect to their preferred platforms and start broadcasting directly, eliminating the need for other third-party streaming software. Streamers can also simultaneously monitor comments from their viewers directly in the app while managing their stream.
Roland GO:LIVECAST keeps you and your stream looking its best. Portrait and landscape mode are automatically detected by the smartphone's position, while users can select their smartphone's front or rear camera via the app and even apply a filter for a polished, softened look. Introduce multiple angles and split-screen views through the app by simply connecting a second smartphone or tablet camera via wi-fi.
For a hands-on demo of Roland products like the GO:LIVECAST, visit the Roland exhibit at the Consumer Electronics Show (CES) in Las Vegas, Nevada, at Pepcom on January 6, 2020 and booth #10719 from January 7-10, 2020.
The GO:LIVECAST is available January 2020 for $249.99 USD.
More information: Roland