Roland has announced the GR-55 Guitar Synthesizer, a revolutionary new product from the world's undisputed leader in guitar synthesis technology.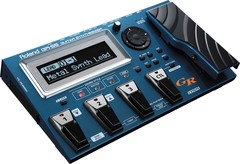 Combining PCM synthesis with digital instrument modeling derived from the respected VG-99 V-Guitar System, the GR-55 represents Roland's latest breakthrough advances in guitar synthesis, offering playability, features, and sound quality that far surpasses the capabilities of previous generations of guitar synthesizers.

The GR-55 is the pinnacle of Roland's exhaustive efforts in the field of guitar synthesis over the last 35 years. In 1977, the company created the GR-500, the world's first guitar synthesizer. This milestone product ushered in a new era of guitar expression, allowing guitarists to play an entire palette of sounds that were previously available only to keyboard players. Since then, Roland has remained steadfastly dedicated to guitar synthesis, constantly developing and improving the technology to make it accessible and easy to use for all guitarists.
GR-55 features
A revolutionary fusion of guitar synthesis and powerful COSM guitar modeling.
Up to four sound sources at a time: two PCM synth tones, plus COSM guitar modeling and normal guitar input.
Easy to use and easy to play with hundreds of great, ready-to-use sounds for rock or pop guitarists.
Advanced Roland technology provides superb sound quality and lightning-fast processing.
Over 900 of Roland's latest fully editable PCM sounds, including pianos, organs, strings, vintage synths, and much more.
COSM guitar and amp modeling.
Two types of multi-effects engines, plus global reverb, chorus, and delay effects, and an onboard looper.
Built-in USB audio player with foot control.
Available with or without GK-3 Divided Pickup.