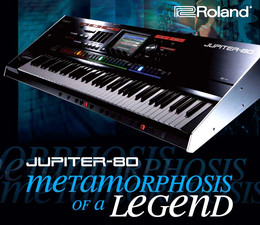 Roland is introducing its JUPITER-80 synthesizer at a number of Sam Ash locations this August.
Who's going to be the first in your area to experience the brand new JUPITER-80? Will it be you? Check out exclusive debuts to see an unprecedented leap in synthesizer technology.

Roland's Scott Tibbs, known for making music with everyone from Beyoncé to Bruce Springsteen, will showcase the JUPITER-80 and its amazing mix of expressive acoustic instrument sounds and powerful synthesizer textures.

Scott's heart-pounding, film-scoring style multimedia performance and his nostalgic dash through iconic synthesizer driven hit songs is not only jaw-dropping, it highlights the coolest of the cool in the JUPITER-80's seemingly infinite musical palette. You won't want to miss this!
Roland JUPITER-80 Clinic Tour
Hollywood – Aug. 18 7:00 p.m.
Miami Lakes – Aug. 23 7:00 p.m.
Atlanta – Aug. 24 7:00 p.m.
Charlotte – Aug. 25 7:00 p.m.
New York City – Aug. 29 7:00 p.m.