Roland has announced the Super UA, a high-performance USB 2.0 audio interface featuring proprietary S1LKi technology.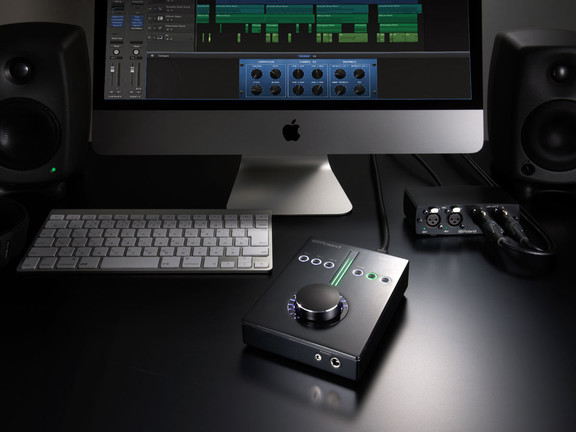 Offering exceptional sound with 1-bit DSD and 32-bit PCM playback, VS Preamps, monitor control functions, and more, the flexible Super UA is ideal for use in personal music studios, mobile applications, and other situations where superior audio resolution is desired.

Sleek and compact, the Super UA provides up to four simultaneous channels of 24-bit PCM recording. Roland's newly developed S1LKi audio engine also enables native four-channel playback of DSD audio sampled at 2.8 MHz, as well as PCM playback at rates up to 32-bit/192 kHz. Using the same type of 1-bit D/A converter used in DSD, S1LKi produces ultra-smooth, unclouded sound when compared to standard D/A conversion in typical PCM-based devices.
Super UA features
Audiophile sound quality with 1-bit DSD and 32-bit PCM playback.
Four inputs and four outputs with XLR and 1/4-inch connectors.
Die-cast metal construction with simple, solid controls and smooth metering.
Includes 1/4-inch and 1/8-inch jacks for headphones.
Flexible design allows for mobile use without having to disconnect studio mics and monitors.
Large multi-function knob and recessed, illuminated buttons provide quick access to input and output levels.
Clean, quiet operation with stunning clarity and dynamic range.
Low-latency ASIO and Core Audio drivers.
Pricing and availability TBA.